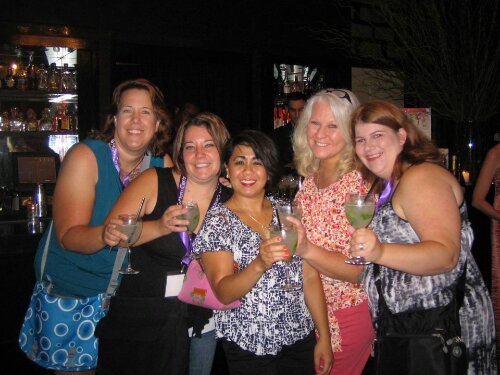 As you may know, I'm in NYC for BlogHer. The only other time I've been in NYC was for the Sandra Lee experience. On that trip I did not have time to explore the city or really even see it. I had a private car and we took a charter bus from location to location. This time I had to come prepared with where I was going and how to get there. I used Microsoft OneNote to put all my maps in and schedule so I know exactly how to get places. I have OneNote loaded on my Xyboard and anywhere I go I can pull it out, grab directions and go. Well, one of the parties I went to was in SoHo so I had to navigate myself and friends to the party using the subway. I've never even been on the subway before so it was quite the experience. I have to say that it was not scary like I thought it would be. We made it to the party early and enjoyed ourselves. The party was for Mom Central. They wanted to kick off BlogHer with us with a First Drink on Us party. They had champagne and mojitos ready to go and little appetizers. They had these excellent mini cheeseburgers by Suzy Sirloin that was one of their sponsors.
After Mom Central we had to make our way back to Times Square to the Renaissance Hotel for a Collective Bias cocktail mixer. Navigating the subway that time was a little harder. We had to take a different line and my google maps didn't have very detailed instructions. We still ended up making it to the party but with only 20 mins to spare. Because one of the girls I walked with was in the middle of a conversation with a sponsor when they broke up the party, we got invited to go to dinner with the Collective Bias staff and sponsors. It was so nice to be included. After dinner I had  to hail us a cab back down to our hotel because it was late and far from our hotel. I was so proud of myself for hailing a cab and giving him the address with no stuttering. I have been in cabs a few times this summer but never had to hail one myself.
When I got back to the hotel I got to hang out with my Chicago friends. We actually got in trouble for being too noisy that night. Whoops!  Wednesday was a great kick off to BlogHer and I ended the day having walked 6.52 miles.