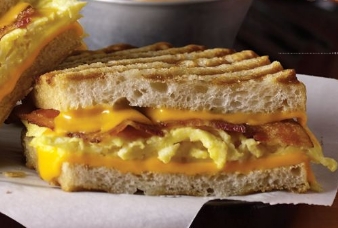 Did you know that breakfast is a really important part of the day? I know that if I haven't eaten by 10 or 11 am I am totally shaky and a grouch the rest of the day. When I'm at home I like to eat eggs with bacon and toast or pancakes. Or when we go out to breakfast I will get corned beef hash and eggs. I'm not totally excited about fast food choices for breakfast, though. I hate how most places have greasy sandwiches and hashbrowns. I tend to feel sick after eating some of those choices. One of the places I do like to go, though, is Corner Bakery. I like the fact that they have a non-greasy breakfast sandwich option. I also love the smoothies they have. They post the calories on their menu which makes it easier to make healthier decisions to start your day off right. Unfortunately there's not one very close to my house, but there is one close to my husband's work so he can stop by and get a nice, healthy lunch. The only time I seem to be able to get to Corner Bakery is when I'm downtown. I ate there after my event for Verizon Wireless. It cost me only $7 to get breakfast when it would have cost me nearly $30 to have room service. I think Corner Bakery was definitely the smarter Choice. I got a breakfast Panini and smoothie and brought them to the train with me. I love how convenient Corner Bakery is at Union Station in downtown Chicago. I love taking the train to places. It's so nice to not have to drive or park downtown. I swear sometimes I need a Xanex for that Experience!
Do you eat oatmeal for Breakfast? I'm more of an apple instant oatmeal kind of girl. I'm not a fan of old-fashioned oats myself.
I would love for you to take my breakfast survey to see what's important to you for breakfast. If you do, you can win a $50 gift card to Corner Bakery. I promise the survey isn't long. Please enter my survey: https://www.surveymonkey.com/s/FrostedFingersSurvey
Note: I was given a gift card in exchange for this post. All opinions are my own. Gift card will be randomly chosen by my Corner Bakery PR rep and emailed from me. You will have 48 hours to respond to my email or another person will be chosen. Please add paula@frostedfingers.com to your contacts so that my email does not go to spam. No purchase is necessary to win. Purchase will not increase your chances of winning.