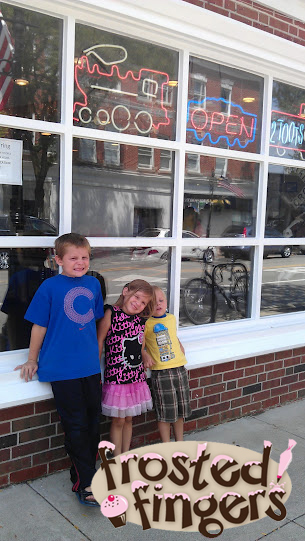 Last week I took my kids and their friends to 2Toots Train Whistle Grill for lunch. We arrived almost an hour before my friends were to get there so my kids and I walked around downtown Glen Ellyn for a while. We stopped in at a bakery and they each got a smiley face cookie and then we went into a candy shop and I let them get some candy from the bins.
We arrived in the restaurant and were immediately greeted. We had to wait a little while since we were a party of 10 but they took great care of us and made sure we all got to sit together. One of the nice things about 2Toots is that they are the only train restaurant where all tables sit on the track. The location in Glen Ellyn is perfect, because it's located right on some tracks and you can watch real live trains passing while you eat as well. The restaurant is decorated with all sorts of train pictures on the walls.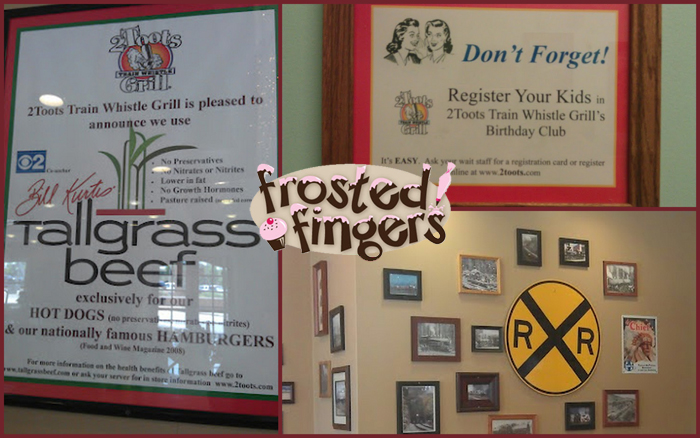 Another nice thing, is that like The Original Pancake House, 2Toots uses TallGrass Beef which is 100% grass-fed, all-natural, and preservative and hormone free. I was a little scared to try the beef because I've heard from other friends that grass fed beef just doesn't taste the same. I really liked my cheeseburger and would totally go there and buy it again. I took a bite of Little Man's hot dog and could notice a difference in taste, but it wasn't bad. None of the kids complained about their hot dogs. One kiddo got the chicken nuggets, but I didn't get a picture of that. My friend got the chicken sandwich and she said it tasted fine.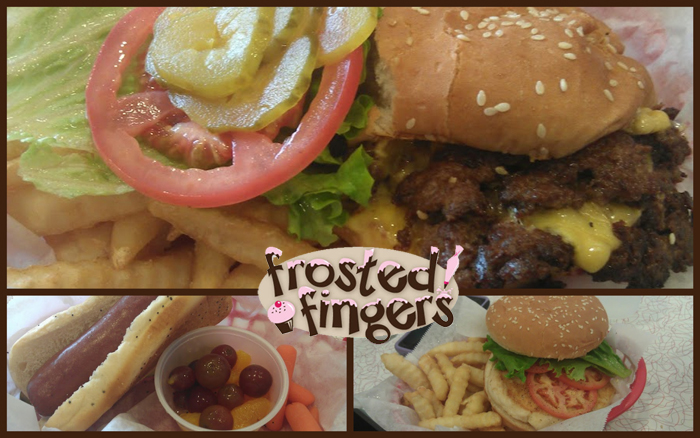 I will definitely be taking my family back to 2Toots along with my husband this time so he can experience this restaurant as well. Keep in mind that it's not a large restaurant so you want to arrive early to beat the rush. As we were leaving there was a big crowd waiting to be seated. Our drinks were never empty and they took really good care of us there. It cost approximately $66 for 10 meals with drinks, I don't think that's bad at all, especially since you're getting quality beef. I liked that all the kids meals also came with carrots. Overall we really liked the restaurant and would go back again. My only complaint about it was that the music was too loud but I didn't want to be a complainer and ask them to turn it down.
Visit 2Toots Whistle Stop Grill:
450 N. Main St
Glen Ellyn, Il 60137
or
203 S. Main St.
Bartlettt, Il 60103
Visit their Website or follow them on Facebook or Twitter.
Note: My family was given a gift card in exchange for a review of this restaurant. All opinions are my own.