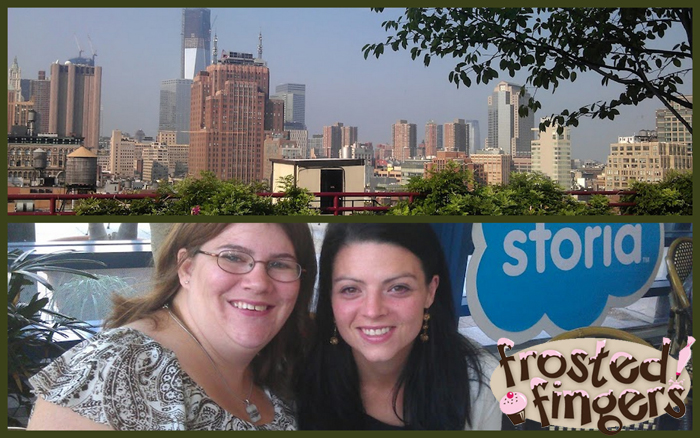 Saturday morning started out with one of my favorite events. We got on a bus and rode down to SOHO to visit with Scholastic. They have a new app out for Apple (coming soon for Android) called Storia. It is SUCH an awesome app. I can NOT wait for it to come out for Android since my husband stole my iPad. It is a great app for helping your child learn to read or enhancing his or her reading. Check it out! We had a great breakfast overlooking Manhattan Island and I got to sit with one of my favorite people, Alli from No Time for Flashcards.
After Scholastic I headed back to finish up the Expo and then worked on packing things up some more. It was nice to relax for a while. I then headed with Lisa to the Dodge Decompression Suite. This event was a huge mess. They couldn't find people on the list, let people in the front of the line, didn't explain to people how things were going to work and had a huge amount of indifference. They had chair massages happening and we were some of the first people in line to get in. I got to a chair and sat down. People practically knocked Lisa over and she didn't get a chair. My masseuse was a male and let me tell you, he was more of a gossip than most women I've seen. He didn't think about the fact that I could hear everything he was saying. He was saying that all the women coming in were like pigs to a slaughter and how pathetic we all were. Seriously?
That night I went to BanShe with my friend Val but I wasn't feeling the greatest so we didn't stick around there long. After that we headed to the BlogHer sponsored parties: Social Fiesta and CheeseburgHer. I was looking forward to both of these because last year I loved the food at Social Fiesta and you know what to expect from a McDonald's party. Well, the food at the Hilton was pretty disgusting all weekend and it didn't break the chain Saturday night, either. At CheeseburgHer they had one bar open so there were lines any time you wanted a drink and they ran out of cheeseburgers! There were no fries and no cheeseburgers. I was hungry and had no food.
You could tell I took it easier that day, because I only walked 2.38 miles that day. It was my lowest day of walking the whole trip.