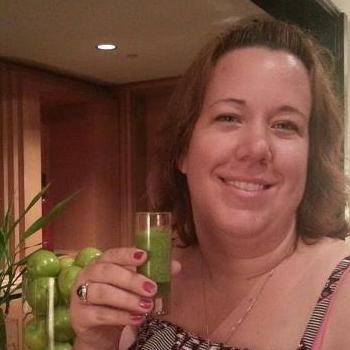 Day two I started off exhausted and sore but ready to get going. First off we ran across the street to get breakfast, seeing that the conference hadn't officially started yet. I got a breakfast burrito for $4. I thought that was cheap for NYC! We then headed over to the R&R Suite. It was hosted by Trumpeting Media. They had some great brands there to connect with, including Beaches Resort, Pepperidge Farm, Evologie and FitBit. They also had chair massages and manicures going on. I didn't get a mani because I was wearing cupcake Jamberry nails for the weekend. I did enjoy the massage however. I had a very relaxing time at the R&R suite. It was definitely one of my favorite events for the weekend.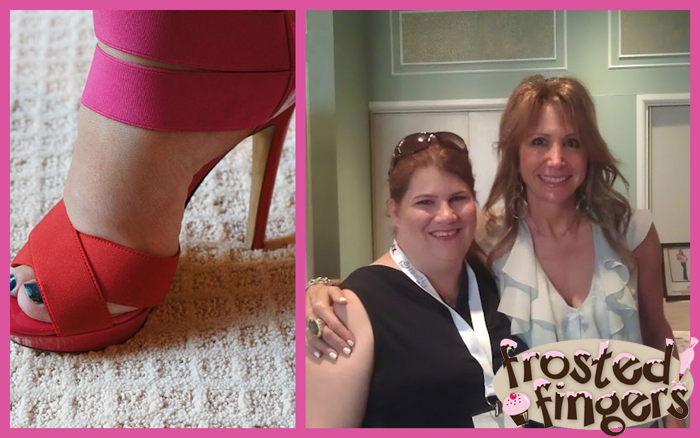 Next on the agenda was the Carpet One Spill Suite. They showed us how easy it is to get stains out of their carpet (boy, do I need that carpet with an old dog and 3 kids!) They had cocktails, toenail polish change, trying on designer shoes and meeting the Accidental Housewife. You see the shoes that my feet were crammed in? Yeah, I couldn't walk in them. I can't believe people wear shoes like this on a regular basis. I can't find the exact shoe I was wearing, but the brand, Fendi, runs between $600-$900! Even if I were rich I wouldn't pay that much for shoes.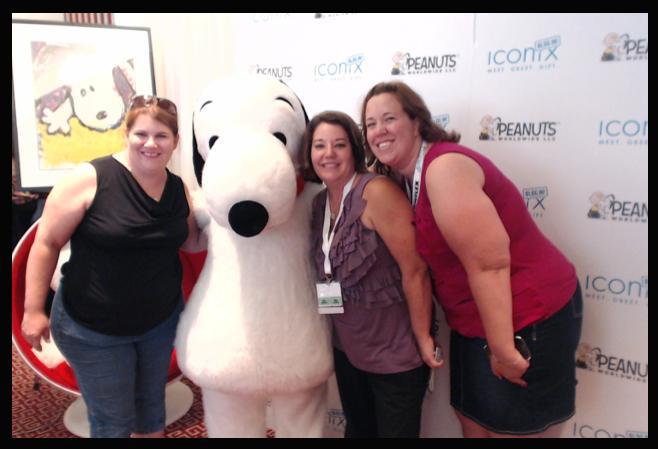 After Carpet One, we headed over to meet with Iconix. They work with brands such as Peanuts, Sharper Image, Mudd, and Sandra Lee. The Iconix event was jam packed. They did a great job of setting up the room. They had a bunch of healthy and unhealthy snacks along with cocktails being served. I grabbed a few carrots and a couple Sprinkles red velvet cupcakes. They are my favorite! I walked out of there with a few cool goodies. I'm already using one of them, which is a pink wireless mouse from The Sharper Image. I'd forgotten how much I liked using mouse since I haven't used one in probably six months!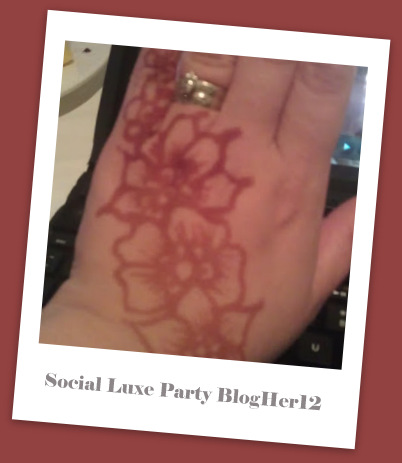 After Iconix we had to head over to the Social Luxe Lounge which was sponsored by Edy's Slow Churned Ice Cream. Love this ice cream and you'll hear more about it in the next day or so. The party was literally a party with LOUD DJ music and way too many people for my taste. They were doing beauty treatments but the only thing I saw was henna. I got it done on my hand. We ate some ice cream, got our pictures taken and were out of there. They sent us home with a Wall Pops! wipe off board which I have already put up in my kitchen. Love it!
From Social Luxe we headed right over to Social Soiree. They had a gathering where you could mingle with the brand representatives that sponsored them, if you could find them. It was kind of a small space and it was loud, so not very conductive for conversations with a brand. I did win a $10 iTunes gift card from their one sponsor Escalate Network. At this point of the night I was getting partied out but still had a few more to go.
After Social Soiree was The Big Toy Book's Sweet Suite. This was one of the events I looking forward most to. It's an event where there are tables and tables of toy sponsors that you can talk to. Unfortunately with the time slot we were given, we only had 30 minutes to mingle before they were shutting down. When you have reps that will talk for 10 minutes at a time, you don't get very far very fast. I got to come home with a ton of extremely cool toys and contacts, though. After this event I am really thinking about doing a holiday gift guide this year on my blog.
After Sweet Suite we headed back to the hotel to drop off our bags and ran down to the deli across the street again. This time Maria and I shared a sandwich and I got a box of Cheez-Its that cost $6.99. CRAZY!! We hung out and talked about our day and I crashed pretty hard. I ended up walking 7.91 miles that day. Ouch!!
Note:I attended an event hosted by Trumpeting Media, Carpet One, Iconix, Social Luxe, Social Soiree, and Big Toy Book and received samples for review