A few days ago some friends and I decided to go strawberry picking so the kids could have some fun together and we could get some strawberries! We were trying to decide whether we should go to the one last year or try this new one (new to us) in Hobart, IN called Johnson's Farm.
The farm we went to last year was just that, a field of strawberries that you pick, pay for and leave. They had a picnic area with a disgusting port-a-potty and lots of mosquitoes, so to me, that wasn't a place I really wanted to visit again. Both fields were about the same distance from us. The upside of going to the Indiana farm, Johnson's, was that I could go visit my friend Kim as well. From the title of this post, you can see we chose Johnson's Farm.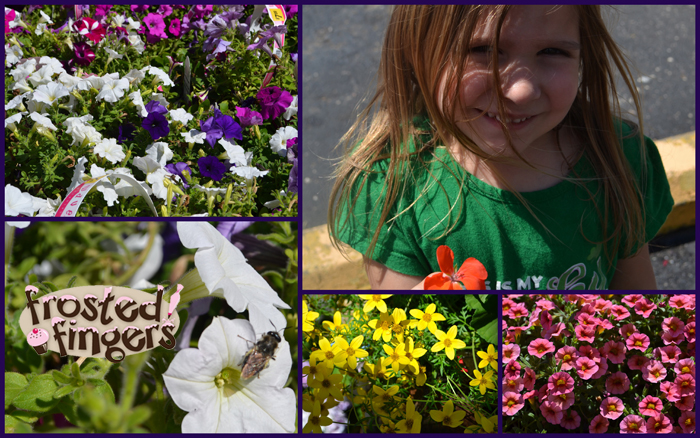 We somehow beat all our friends to the farm so the kids and I looked around their store for a while. They had a small amount of fresh veggies (still early in the season) for sale and a TON of flowers. The flowers were beautiful and the kids were having a great time going all over the place looking for their favorite colors and watching the bees pollinate the flowers. Johnson's Farm is home to the largest garden center in the area. I don't think I've ever been to a bigger garden center. They had a ton of garden fairies, too. Monkey was in love with those.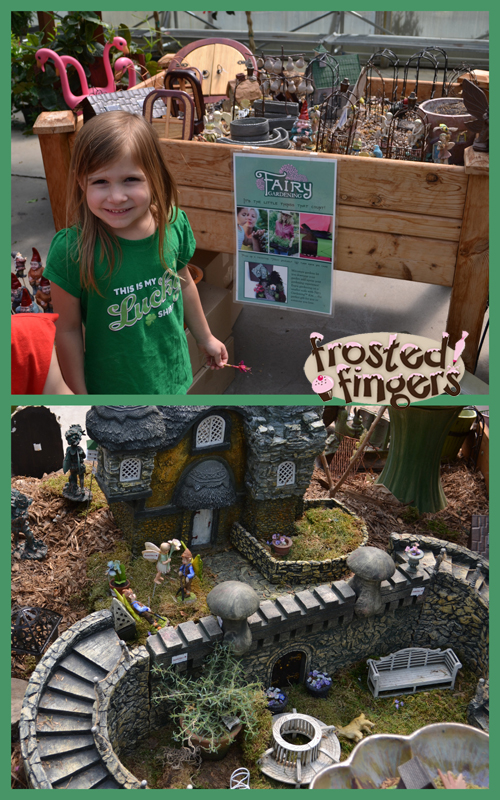 Not long after we got there our friends started arriving. We slathered ourselves up with sunscreen and started to make our way towards the strawberry fields. Just so you know, the strawberry fields are a little bit of a hike from the garden center. I wouldn't plan on parking at the garden center and walking, it's too far. You follow a winding road and finally get down to the fields. They have buckets set up and you just grab your buckets and start picking.
I don't know if it was because it was early in the season or if their crops are just like this, but the strawberries were a little small. It didn't stop the kids, they had a blast! Johnson's Farm has a great FAQ section on their blog about their you pick strawberries. The buckets are $8 each and hold 5-6 pounds of strawberries which equals out to about $1.60 per pound. They aren't necessarily organic, but they are considered sustainable. "Our concerns are the same as yours. We strive to bring the safest, freshest produce from our fields to your table. We practice Integrated Pest Management. We only spray if it's absolutely necessary and if we do we use the safest products possible which is often times, organic." Also if you pick 6 buckets you only pay for 5.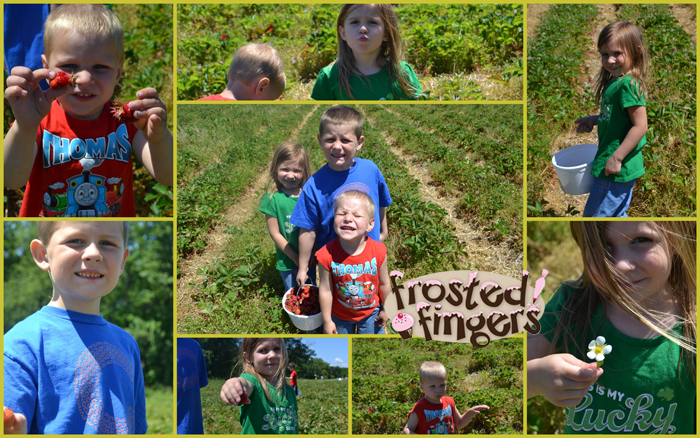 We will most likely go back to their farm next year. Johnson's surely beats the farm we went to last year! They even let you pick raspberries, blueberries and blackberries so we may go back again this year. Never enough excuses to visit Kim and her family anyway!
Johnson's Farm Produce
8960 East Ridge Road
Hobart, Indiana 46342
(219) 962-1383
http://www.johnsonsfarmproduce.com/
Note: I did not receive anything for writing this post. We found this place fun and I just wanted to share with my readers. It's one of the closest strawberry U-Pick farms to the Chicagoland Suburbs.