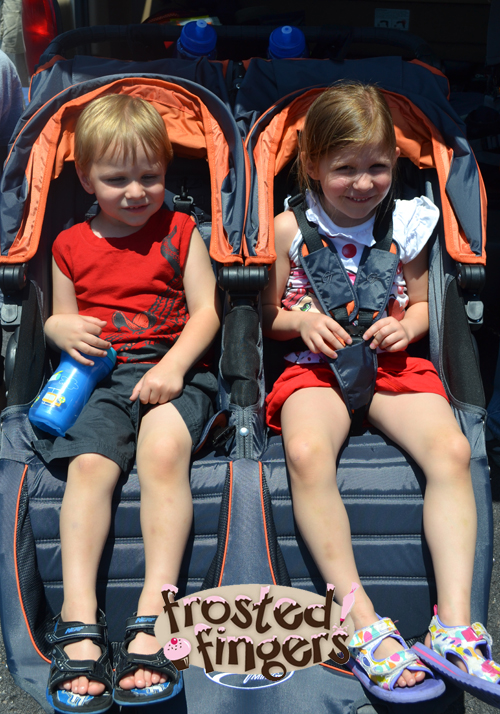 Are you going to be visiting the Orlando/Kissimmee area any time soon with small children? I completely recommend Orlando Stroller Rentals! Going on a road trip, like we did, you may find that you don't have room to pack a stroller. Even flying with a stroller can be very hard. I hadn't even thought about getting a stroller for our trip to Florida. I haven't used a stroller since Little Man was 1-1.5 yrs old. I finally got rid of all of them this past fall in a garage sale. My friend Lori told me about Orlando Stroller Rentals and how great it was to have a stroller in the parks and she sold me on giving it a try. Let me tell you how glad I was to have that stroller! Orlando Stroller Rentals gave me a City Mini GT Double stroller for the week based on the ages of my kids. The stroller was such a blessing! The little two wanted to ride in it a lot, so did Buddy, but it was only a double! It really came in handy when it got to be dark at Magic Kingdom. Little Man is really good about just falling asleep when he's tired. He and Monkey actually both fell asleep in the stroller right before the fireworks started. As soon as the fireworks started, though, Monkey was up. They still scare her at 5.
This isn't a review of the stroller itself, but I did want to say it was a little hard when you had to fold up to get on a trolley or something and to get your items in and out of it. The stroller was a breeze to push, though. I got one of their new strollers that they'd just gotten in, so it was in perfect condition. I did notice Orlando Stroller Rental strollers all over Disney, though, and they all looked like they were in great shape.
For the stroller we got, the current rate is:
1 – 3 Night Rental: $65.00
4-7 Night Rental: $85.00
8-10 Night Rental: $105.00
11-14 Night Rental: $125.00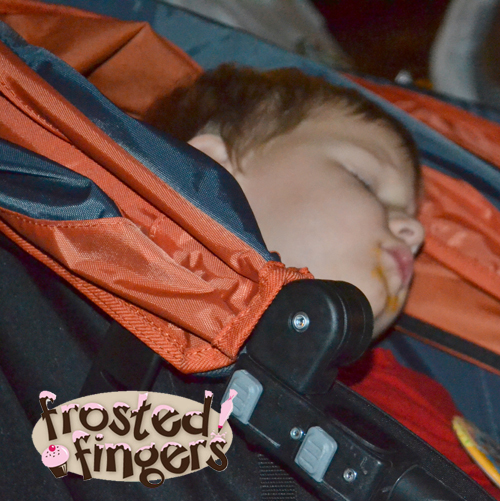 We didn't need the stroller the entire week. If you're planning on doing a three day stretch of Disney, $65 is a great price to have the stroller. The kids will love you for it! Another REALLY awesome thing about Orlando Stroller Rentals is that they will deliver the stroller to your hotel or vacation rental so you don't have to stop anywhere else to get it!
Here's a little about Orlando Stroller Rentals:
Hello! My name is Shannon Tanner and I am the owner of Orlando Stroller Rentals, the ORIGINAL STROLLER ONLY rental company. Ever since I was a young child, I have been visiting Walt Disney World. The magic and wonder still amaze me today. Now that my husband and I have children of our own, we have been able to experience WDW through the eyes of our son and daughter. Originally, from Connecticut, we would visit Disney during the summer months or school vacations since I was an elementary teacher. We would always bring our own stroller with us. We did not bring a stroller on our last trip from CT to Disney because our children were five and six. We did not even own a stroller anymore. We soon realized, after one day in the parks, that we wished we had a stroller with us. We rented one in the parks, which worked fine up until we had to return it before we exited Epcot. Our five year old daughter was very tired and my husband had to carry her back to the Beach Club Resort where we were staying. Our six year old son was not very happy walking back either. After renting a stroller for three more days, we knew there had to be a stroller alternative for parents like us…needing a stroller that could accommodate a high weight capacity, is easy to push, reclines, has a large sun canopy, is easy to fold, and is delivered to and picked up from Orlando area hotels. That is how Orlando Stroller Rentals began; I left my 12 year elementary teaching career and opened up the company. We have helped thousands of families enjoy thier Orlando area vacation since June 2008.
If you're visiting the Orlando area and are in need of a stroller, please check out Orlando Stroller Rentals! You can also like them on Facebook for a chance to win a free stroller rental!
Note: I was given a double stroller rental for the week I was in Orlando/Kissimmee in exchange for my review. All opinions are my own.