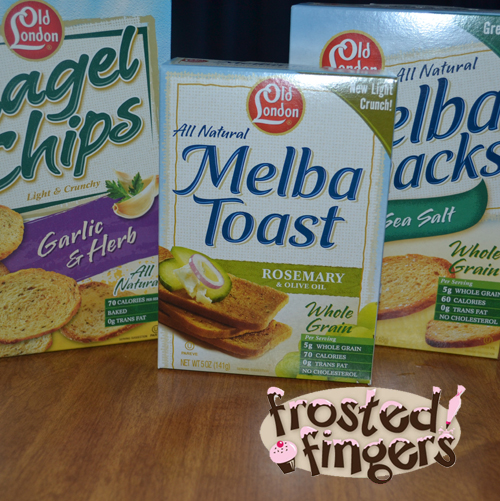 I was given the chance to try a few different types of Old London Melba Snacks and Bagel Chips. I've been a fan of Melba Toast since I started Weight Watchers back in 2003. It was a great low point snack with some Laughing Cow cheese. I jumped at the chance to try some more flavors. I was sent the Garlic & Herb Bagel Chips, Rosemary & Olive Oil Melba Toast and the Sea Salt Melba Snacks (which I used in the below recipe.) I have to say that I did not like the Rosemary and Olive Oil Melba Toast at all. I loved both of the others. The bagel chips were awesome with some Laughing Cow cheese spread on them. I think the Sea Salt Melba Snacks brought a great flavor to my pork chops. Old London has many different flavors of their chips and toast. I've always been a fan of classic melba toast, either with the Laughing Cow cheese or with just butter spread on it.
Before I get into my recipe below, I wanted to share with you a contest that Old London is having. It's called: "OPA! To a better you!" You can enter the contest on their Facebook page.
When it comes to getting into shape and improving your overall health, it's very easy to get
sidetracked and see your best-laid plans fall by the wayside. Old London wants you to toast to your
health every day and say "OPA" to a better you!
"Opa!" is a popular Greek term used to express excitement and cheer. Greeks find ways to celebrate
their heritage, food and family every day. They seek balance in their daily lives by participating in
outdoor activities and relying on a healthy diet of olive oil, grains, vegetables, fish and dairy. The
beautiful terrain and ancient ruins make hiking a popular activity, while others participate in water
sports along the many coastal shorelines. Dancing is also a vivid expression of everyday life, and a
large part of social gatherings and celebrations.

Old London will send one lucky winner and a guest on an all-expense paid trip to the Greek Islands
for a first-hand experience of the local culture, food and activities. Say Opa! to a better you by
maintaining a healthy, balanced diet and participating in physical activities you love while enjoying
the breathtaking views of the Greek Islands!

Grand Prize:
One Grand Prize: 8-day/7-night trip for two to Greece.
Prize includes the following:
 Round trip (coach class) air transportation from a major airport nearest the winner's home
address
 Seven nights (double occupancy) first class hotel accommodations in Athens, Mykonos and
Santorini
 $2,000 gift card for spending money
That vacation sounds WONDERFUL to me! I've been trying to be more conscious of my food choices and am trying to lose weight but also embrace life. I don't want to always worry about calories and exercise. I'm just trying to find the balance. It may take longer for the weight to come off that way, but it didn't go on overnight. If you'd like to try some other Old London recipes, besides the one I came up with, you can visit their website or Facebook app. Now on to my recipe.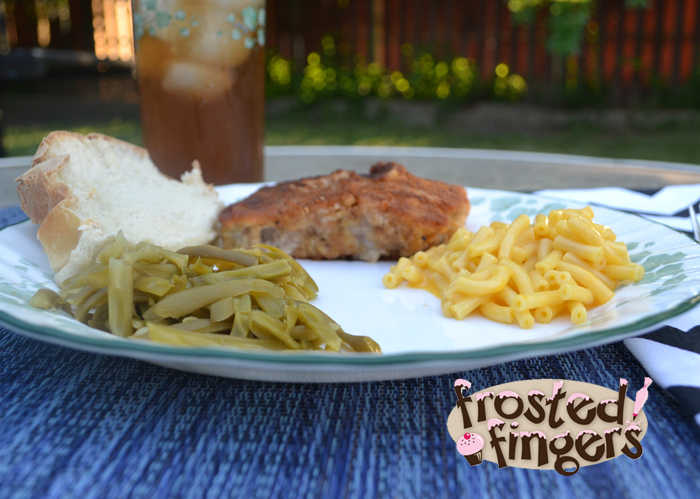 Parmesan and Sea Salt Melba Crusted Pork Chops #Recipe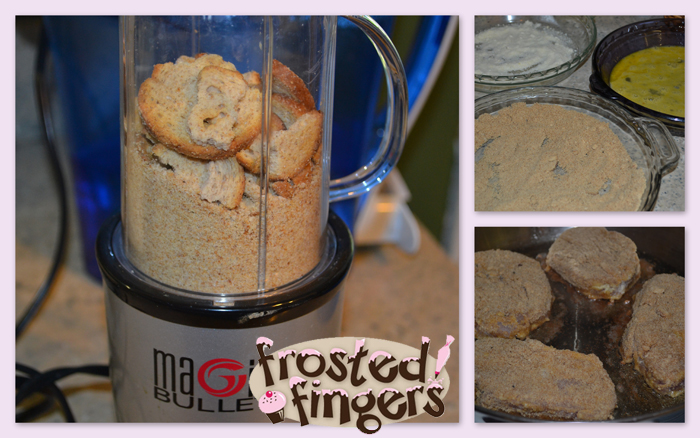 Ingredients
2 large eggs
½ bag Sea Salt Melba Snacks
¾ cups Parmesan Cheese
4 (1/2 to ¾-inch thick) center-cut pork loin chops (each about 10 to 12 ounces)
freshly ground black pepper
1 t garlic powder
6 tablespoons olive oil
Instructions
Place your Melba Snacks in a food processor until the consistency of bread crumbs and then place in a pie plate.
Stir in garlic powder and black pepper in with the Melba Snacks.
Whisk the eggs in a pie plate to blend.
Place the cheese in a third pie plate.
Coat the pork chops completely with the cheese, patting to adhere.
Dip the chops into the eggs, then coat completely with the bread crumbs, patting to adhere.
Heat 6 tablespoons of oil in a very large skillet over medium heat. Add pork chops, in batches if necessary, and cook until golden brown and the center reaches 150 degrees, about 6 minutes per side.
"I wrote this review while participating in a blog tour by Mom Central Consulting on behalf of Old London. I received product samples to facilitate my review and a promotional item to thank me for taking the time to participate."