This past weekend was Brandcation, held in Pensacola, FL. I'm going to share all of the events separately with you first and then do a wrap up post. We started off the weekend with Blogger Beach Olympics! What a great way to break the ice with 32 strangers! We were all split up into 4 condos/teams before the weekend began. I was in Kim's condo. We decided to call ourselves The Ladybugs. The other three teams were Blondie's condo: Snark Attack, Trisha's condo: SEOs, and Lynsey's condo: Beachin Bloggers. Our team had red shirts and ladybug wings (they were actually red butterfly wings, if you want to be technical.)
The first of the Blogger Olympic tasks was a picture scavenger hunt. We broke off into our groups and had to go around the Portofino Bay Resort, where we were staying, trying to find items and take pictures of them. We had to try to get the most pictures of pools, a picture of a surf board, flower, something in the spa, etc. Our team came in first because some of our girls were smart enough to hop on a golf cart to get taken from pool to pool! There was a little bit of backlash about the golf cart and that our team had two different cameras used to take pictures. (We all missed the rule where it was only supposed to be one camera used. Whoops!)
Next we actually headed down to the beach to start the real fun! Our first beach event was to build a White House sand castle. The condo leaders threw the buckets out into the water and had other tools on the beach. In true "Survivor" style, each team had to run to pick up whatever items they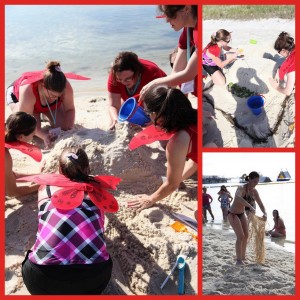 could to make the best sand castle. Do you know how hard it is to create the White House out of sand? Our team found two hermit crabs and used them as Mr and Mrs President. We also had a limo out front of the White House, which Mr President had walked to by the time it was our turn to talk about our castle.
The next event was the Blogger Float Relay Race! Blondie had to stand out in the water and one blogger from each team grabbed a pool float and while keeping her body on it had to swim, run, fly to Blondie and back to pass the float to the next person in line. That was hard work! Next was hula hooping! I have never seen such talented hula hoopers! Denise rocks at hula hooping! That woman could go all day if she wanted! (Must be something about having hips after having 9 kids?) After that we had a different relay race. This time we had to run over to a pile of items and get them on, shake our hips, undress and run back. The items were a grass skirt, coconut bra and shell necklace. It's fun to see how creative people can be when in a hurry. The two teams that won that relay race went on to race each other with pass the beach ball.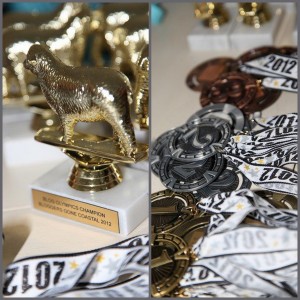 Really, I couldn't think of a better way to have an ice breaker and have people work together. No one held back and we all had a blast. There was so much laughing! Now with the placements: SEOs came in as Champions, Snark Attack was 1st runner up, Team Ladybug was 2nd runner up and Beachin Bloggers was 3rd runner up.
I wanted to give a huge thanks to Jambu Footwear for sponsoring the Beach Olympics! I'd love to get a pair of their shoes! They look so comfortable and cute. Follow them on Facebook and Twitter.