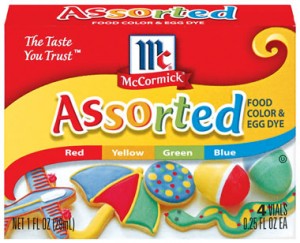 Recently McCormick sent me some spices to inspire me to make a recipe. I unfortunately didn't have the time to come up with one of my own, so I chose to make their Spiced Springtime Sugar Cookies with colored sugar instead of the colorful cookie glaze. I was in a hurry and didn't have time to roll, cut and decorate cookies. The kids were so excited to see me making cookies. Monkey told me that she gets to have all the pink and purple and that the boys can share the blue and green cookies.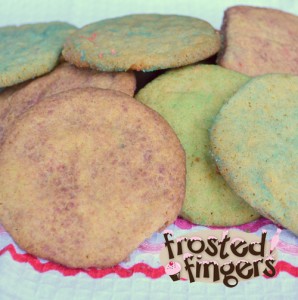 I had a small oops when I was measuring the salt and I got just a bit too much in there. It wasn't bad, but some bites tasted a bit too salty. I wonder if the recipe would still work right with no salt at all. I did refrigerate the dough for two hours before baking but noticed that the cookies still spread as I cooked them. The great thing about this recipe is how easy it is to make them look spring inspired without having to take a lot of effort. The kids could even help by shaking the cookies in the sugar.
Spiced Sugar Cookies Recipe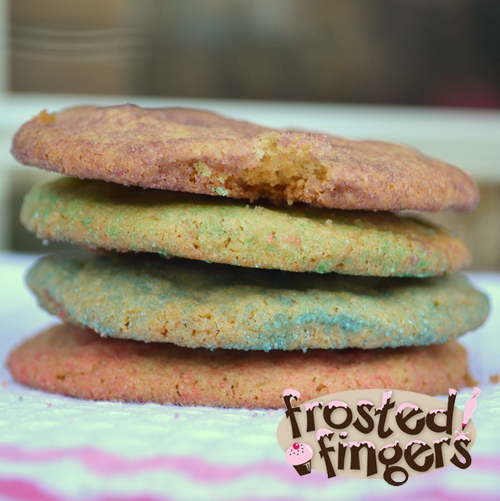 Ingredients
2⅓ cups flour
1 teaspoon baking soda
1 teaspoon McCormick® Cinnamon, Ground
¼ teaspoon McCormick® Nutmeg, Ground
¼ teaspoon salt
1¼ cups granulated sugar
1 cup (2 sticks) butter, softened
1 egg
2 teaspoons McCormick® Pure Vanilla Extract
½ c granulated or sanding sugar
McCormick® Assorted Food Colors and Egg Dye
Instructions
Mix flour, baking soda, cinnamon, nutmeg and salt in medium bowl. Set aside. Beat granulated sugar and butter in large bowl with electric mixer on medium speed until light and fluffy. Add egg and 2 teaspoons vanilla; mix well. Gradually beat in flour mixture on low speed until well mixed. Refrigerate 2 hours or overnight until firm.
Place ½ cup granulated or sanding sugar in resealable plastic bag. Add 5 drops of McCormick® Assorted Food Colors and Egg Dye. Add more food color, a drop or two at a time, if more intense color is desired. Seal bag and knead gently until color is evenly distributed. Spread in thin layer on baking sheet and break up any large lumps. Allow to dry thoroughly, about 15 to 20 minutes. Sift or press through sieve to return sugar to its original texture, if needed.
Preheat oven to 375°F. Roll dough into balls and shake in colored sugar. Place on cookie sheet and press down with bottom of the glass to flatten the cookie. (OR you can: Roll out dough on lightly floured surface to ⅛-inch thickness. Cut into shapes with favorite cookie cutters. Place on greased baking sheets.)
Bake 8 to 10 minutes or until lightly browned. Cool on baking sheets 1 minute. Remove to wire racks; cool completely. (My oven I did one batch at 14 minutes and the second batch at 12 minutes. The shorter time were softer cookies.)
If you want some more Spring Inspired Recipes, why not check out McCormick's PIN-spiration contest or hop over to McCormick's Spring Flavors Recipe Page.  You can also check out my McCormick Pinspiration board: http://pinterest.com/frostedfingers/mccormick-pinspiration/
Note: I participated in a campaign on behalf of Mom Central Consulting for McCormick. I received product samples and a promotional item to thank me for participating. If entering the McCormick Pinspiration contest, please see official rules.