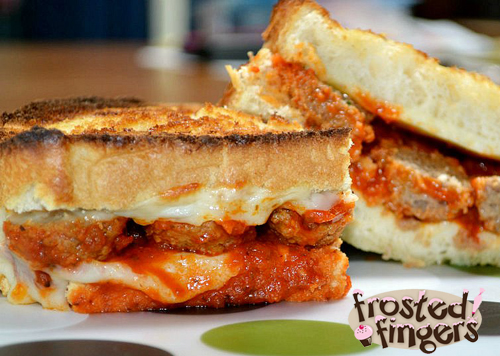 I was recently surfing Pinterest and got inspired to make meatball grilled cheese sandwiches. When I went to the store I didn't have her recipe so I just decided to do it all on my own. Of course I didn't buy marinara sauce, so when I got home from baseball last night, all ready to make these delicious sandwiches, I had to run back out to Meijer to get sauce. I'm glad I did, though (well, except for the crying 4 yr old through the ENTIRE store) because Meijer had a sale on their Organic spaghetti sauces. They were on sale for $2 each and if you buy 10 you get an instant $5 off which means I got 10 jars of organic spaghetti sauce for $1.50 each! That's less than I pay for Ragu at Walmart! Anyway! These sandwiches are simple and delicious! (And really, really fattening!)
Meatball Grilled Cheese Sandwich Recipe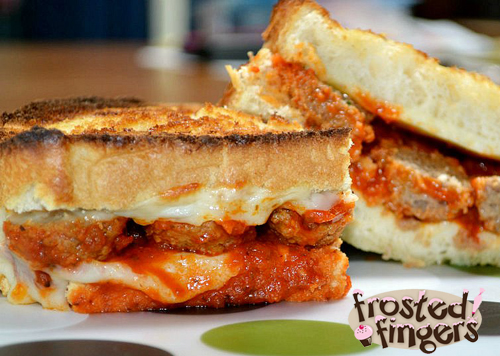 Ingredients
Sourdough Bread (I got a square loaf for more uniform slices)
Frozen or homemade meatballs
Jar of your favorite spaghetti sauce
Sliced Provolone Cheese
Parmesan Cheese
Butter
Instructions
Preheat oven to 350.
Pour sauce and meatballs into pot and cook until heated through.
Slice bread to desired thickness while meatballs are cooking.
Butter outside of bread.
Carefully slice meatballs thin (without burning yourself.) 🙂
Layer two slices of provolone cheese, meatballs, parmesan cheese, then two more slices of provolone and then second piece of bread.
Bake sandwich for about 10 minutes, until cheese melts.
I then put the sandwich under the broiler for a couple minutes, until browned, flip sides and broil for another couple of minutes.
Enjoy!