Lucky Leaf wanted me to try out one of their Valentine's Day inspired recipes. I decided to try their Layers of Love Cherry-Choco Trifle. I didn't have all the right ingredients so I substituted a few things. We used my cherry pie filling to make slow cooker cherry crisp last week. So I substituted strawberry instead of cherry. I also only had red cake so I used that instead of chocolate and didn't have chocolate pudding so I used cheesecake pudding.
They also have a few other recipes for a special treat for Valentine's Day. You can see videos on their Facebook page.
This recipe turned out to be a big hit! I took the girls in my family to see Disney on Ice tonight and when I got home the entire Trifle was GONE! I saw the empty bowl and asked my husband if the rest was put away in a smaller bowl. Nope, it was all eaten. Craziness!
I need to do a giveaway but don't want to close up this post, so I will be doing a separate post next with my giveaway and more about Lucky Leaf's Valentine's day recipes.
Lucky Leaf Layers of Love Strawberry-Choco Trifle Recipe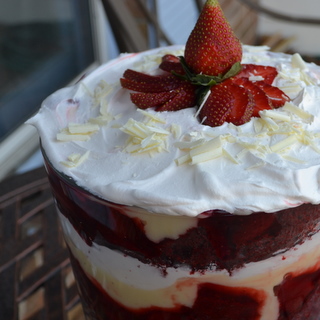 Ingredients
1 18.25-ounce package red velvet cake mix, prepared (original recipe called for chocolate)
1 4-serving size package instant cheesecake pudding mix, prepared (original recipe calls for chocolate)
2 21-ounce cans LUCKY LEAF ® Regular or Premium Strawberry Pie Filling (original recipe calls for cherry)
2 cups frozen whipped topping,thawed
Chocolate curls (optional)
Instructions
Preheat oven to 350°F.
Prepare cake mix according to package directions and bake in a 13"x9" baking pan. Let cake cool completely and cut into 1-inch cubes.
Prepare pudding mix according to package directions. Chill at least 30 minutes. Place half of cake cubes in a 3- to 4-quart trifle bowl. Spoon one can of the LUCKY LEAF Strawberry Pie Filling over cake; spread 1 cup pudding over strawberries and top with half of whipped topping. Repeat layers.
Top with chocolate curls, if desired. Cover and chill at least 1 hour.