I got this recipe from the Carb Lovers Diet Cook Book, which I'm reviewing. I haven't made any more recipes from the book yet. I wasn't very fond of this recipe, to be honest. It kind of turned out dry and for some reason the red pepper didn't mix throughout the whole recipe leaving spots a little too hot and others with no heat at all. I thought it was kind of flavorless as well. I thought it was way too much work for the way it turned out. I hope to have better luck with the other recipes in this book. If you make this recipe, I'd love to hear if you have better luck! Here's the recipe: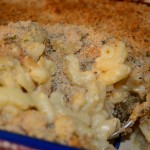 Baked Mac and Cheese Recipe
Total Time
1
hour
5
minutes
Ingredients
2 1/2

c

low-fat milk

1%

4

T

flour

1/8

t

ground or freshly grated nutmeg

3

oz

reduced-fat cheddar cheese

grated

2

oz

smoked Gouda cheese

grated

2

oz

reduced-fat Gruyere or Swiss cheese

grated (I used swiss)

1/4

t

cayenne pepper

1/4

t

pepper

6

c

cooked elbow macaroni

1

c

unseasoned bread crumbs

2

T

freshly grated Parmesan cheese

2

t

chopped thyme

2

t

chopped parsley

1

t

olive oil or butter

1/4

t

salt

1/4

t

pepper
Instructions
Preheat oven to 400.

Whisk together milk and flour in a medium saucepan and bring to a boil over high heat. Reduce heat, add nutmeg, and cook, stirring until thickened, about 10 minutes.

Add cheddar, Gouda, Gruyere, cayenne, and pepper; whisk until melted, 1 minute. Add macaroni and stir to combine.

Toss bread crumbs, Parmesan, thyme, parsley, oil, salt, and pepper in a small bowl.

Place six individual crocks, ramekins, or ovenproof bowls on a rimmed baking sheet. Spoon 1 cup macaroni mixture into each ramekin and sprinkle with 1/6 cup bread-crumb topping.

Bake until topping is browned and cheese is bubbling, 30-35 minutes. Serve hot.