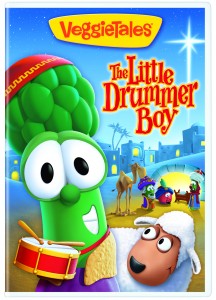 Yay! It's the Christmas season again! Veggie Tales has released a new movie for this Christmas season called The Little Drummer Boy. I really enjoyed watching this one with the kids. It really got me in the Holiday spirit.
When it seems you have nothing to bring… What gift can you give the King?

In this Veggie-version of a holiday classic, Junior Asparagus stars as The Little Drummer Boy, a lonely child who fins the true meaning of Christmas when he stumbles upon the birth of the baby Jesus. A story of hope, love, and forgiveness, this timeless tale will warm the hearts of children everywhere!
I always love watching the silly things that happen on Veggie Tales. Seeing that they don't have hands, Junior's drumsticks float or any other items they may pick up. I also really enjoyed watching the expressions on the camel this movie. I learned from this movie that the story of the Little Drummer Boy was not in the Bible but inspired by the birth of Jesus. (I'm not one of those people that have read the Bible cover to cover. I don't think I've ever even made it through the Old Testament, although I've tried.)
Mr Lunt was a comedian through the movie and I thought I'd share a few of his jokes with you:
What do you get when you cross a Roman Emperor with a head of lettuce?
– A Ceasar Salad
What do you call the person that hangs out with a bunch of musicians?
– The Drummer
Having married a drummer, I've heard the last one before. Here's the trailer for the movie: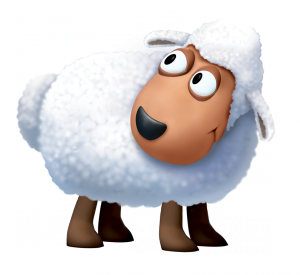 I only watched the movie with the two little ones this time. Buddy was at school. Here is their favorite parts:
Little Man: Watching the movie with Mommy.
Monkey: The lamb was her favorite part.
Other extra features on the DVD:
Trailer for VeggieTales' spring 2012 new release, Robin Good and His Not-So-Merry Men
Little Drummer Boy music video
Visit a drum factory with Junior
Behind the music of The Little Drummer Bot
Family Activity – Make your own drum
Singalong songs
Veggie Tales also sent me a Christmas CD to check out:
O Holy Night: Journey of a Little Drummer Boy CD
Features never-before released on CD songs from Amy Grant & Matthew West, Steven Curtis Chapman, and BeBe & CeCe Winans!
Track Listing:
Hark the Herald Angels Sing
Do You Hear What I Hear
It's About Love – featuring Wynonna Judd
Can't Smile Without Ewe
Meant to Be – featuring Steven Curtis Chapman
Silent Night
What Child is This / The First Noel
Give This Christmas Away – featuring Amy Grant & Matthew West
Oh Holy Night
Away In A Manger
The Little Drummer Boy – featuring BeBe and CeCe Winans
How would you like a chance to get both the movie and CD for yourself?
You can purchase The Little Drummer Boy and O Holy Night at WalMart or VeggieTales.com – or wherever DVDs are sold!
One of my lucky readers will win a copy of Veggie Tales The Little Drummer Boy AND the O Holy Night CD
Mandatory Entry
Veggie Tales is releasing a new 25 Favorite Silly Songs CD. Tell me what your favorite silly song is.
Extra Entries
Like Frosted Fingers on Facebook
Follow Frosted Fingers on Twitter
Tweet about this contest once every 24 hrs. Please include @frostedfingers. You can click the tweet button below.
Connect with Veggie Tales:
Please leave a separate comment for EACH extra entry indicating that you performed the required entry. Provide links to Tweet, etc. as required for the entry.

Giveaway is open to the USA and ends on December 6, 2011 at 11:59 pm CST. Winner will be selected at random from all eligible entries and will be contacted by email. Winner will have 48 hrs to respond. Please add paula@frostedfingers.com to your trusted email filter. If original winner does not claim their prize within 48 hrs, it is forfeit and a new winner will be selected promptly.

Note: I received a dvd and cd to review in exchange for my honest opinions. All opinions are my own.

No purchase necessary to enter or win. Odds of winning are not increased by a purchase.

Please note that as much as we would like your prize to arrive before Christmas, we cannot guarantee it.