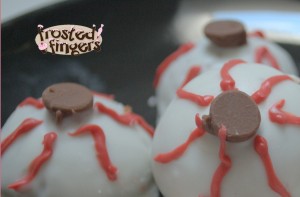 This is a pretty quick and easy Halloween treat. I made mine using a BabyCakes Cake Pop Maker. There are other products out there like the Cake Pop Pan that would get you the same result. I wasn't thinking when I made these eyes. I was going to make round eyeballs but wanted to use my brownie mix. Well, brownies don't rise. So I got half balls. If you use a cake mix, though, you could get round eyeballs to make these treats.
Halloween Eyeball Bites
Ingredients
Cake Pop Maker of some kind

Your favorite brownie mix

White Candy Melts

such as Wilton's

Red Candy Melts

Chocolate Chips
Instructions
Preheat your Cake Pop Maker or oven, depending on how you will make your brownies.

Mix your brownie ingredients together.

Spoon 1 T of brownie mix into the cake pop maker.

Open the maker the first time the light goes off and then re-close until light comes on again. (Brownies take longer to cook than cake.)

Let brownies cool.

Melt your white candy melts per package directions.

Dip your eyeballs in the white candy and while still wet poke a chocolate chip, tip side down, into the dome of your eyeball.

Put a handful of red candy melts into a cake decorating bag or plastic bag and melt in microwave. Snip the tip of the bag and run squiggly lines over the eyeballs to make them look bloodshot.