It's about time I got back to sharing my vacation with you, sorry for that! So we stayed our week at Melody Lane Inn in Branson, MO. The hotel is a little dated with their check in procedure. They still use old fashioned keys, which I'd actually rather have because I can attach it to my keychain and not worry about losing it as much as I would with a card. It took me a while to check in when we got there because there was one person in front of me. I was able to check in early without a problem, though, so that was awesome.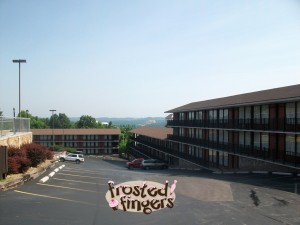 One thing that really bothered me was that they did not have fridges in every room and they refused to move them to your room from another. They only have them in their king rooms which wouldn't work for a family of 5. We spent a week there and had no way to keep things cold. It's especially important to us because Little Man has a milk allergy and he drinks rice milk instead of cow milk. I had no way to really keep it good and cold. My husband did a good job of filling the cooler with ice every night, but what a pain. I guess I can't complain too much because you get what you pay for and I didn't pay much at all, which I'll get to in a little bit.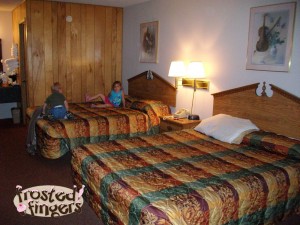 The room size was sufficient. We had two queen sized beds and there was enough room against the wall to put up our cot for Monkey. It's basically just a basic, simple motel room. Table with 2 chairs, two beds, toilet, sink, nightstand, dresser and small tv. I wish hotels/motels in general would buy televisions that you can hook a dvd player up to. The tv selection for kids is horrible and we had our travel dvd player with. Would have been nice to be able to hook it up and let them have some downtime once in a while. (This is not a reflection on Melody Lane, just a general observation.)
If you're like us, we were on the go almost constantly while in Branson and the room was basically just used for sleep. I would recommend Melody Lane Inn to anyone that just needs a sufficient place to sleep. It was clean and quiet. It's right in the middle of the strip so it's easy to get to. The only complaint I had was that we ran out of toilet paper one morning and when I called the front desk he had no access to toilet paper and then told ME to call HIM back in 10 minutes to find out if he found some. That wasn't good customer service. He didn't even leave a message for housekeeping to drop extra in our room because when we got back that afternoon my husband had to go track some down. That was weird.
Here's their general rates published from their website:
Melody Lane Inn is a two-story hotel with 140 guestrooms, which have exterior access. All rooms come equipped with clock radios, dining table and chairs, and cable TV. King rooms include a sofa. Guestroom telephones feature voice mail and free local calls. Irons, ironing boards, and wake-up calls are available on request.

A complimentary Continental breakfast is provided each morning for guests of this Branson hotel. Melody Lane Coffeeshop – Coffeeshop and café. Open daily for breakfast.

| Rooms: | Rates: |
| --- | --- |
| Ling leisure with Sofa | $59.00 to $129.00 |
| 2 Doubles | $59.00 to $139 |

Additional Items and Fees:

Adults over 2 are $10
Free Continental Breakfast
Free WiFi High Speed Internet in Lobby
NO Pets Allowed
Rollaways are $10/night
If you're willing to put in the work to find the deals, though, you can find them for sure. I kept finding cheaper and cheaper deals on this hotel on every travel site on the internet. I finally settled for Priceline where we spent $33.96 a night for a total of $228.36 after taxes for a whole week. Considering the hotel our family stays at in the Wisconsin Dells is typically $135 a night plus tax, this is a huge deal for us!
Contact Melody Lane Inn:
Melody Lane Inn
2821 W. Hwy 76
Branson, Mo 65615
Toll Free: 800-338-8598
Phone: 417-334-8598
Fax: 417-334-3799

Facebook
I was not compensated in any way to write this post. I just want to share my family vacation with you.