What's on your summer fun list? I can't believe summer is halfway over. We still have quite a list to get through! Here's our list: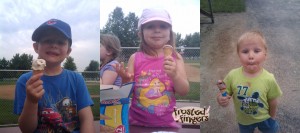 Park playdates
Picnic
Playing in our Bounce House
Swimming
Chuck E Cheese
Museum of Science and Industry
Children's Museum (Went to City Museum in St Louis.)
Wisconsin Dells
Branson, MO
Library
Have a party (we're having a Phineas and Ferb party in Aug)
Play at a Friend's House
Pirate's Cove
Share our inflatable bouncer with friends
Don't worry, I still plan to share all our stops in Branson and Wisconsin Dells. Since getting back home, though, I've been busy cleaning and organizing. Tell me what fun places you're headed to this summer?