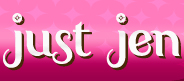 I was recently given a chance to browse some custom and personalized shirts at Just Jen to choose what I wanted to make. Just Jen has custom rhinestone fashions. You can customize shirts, hoodies, aprons, lingerie and more!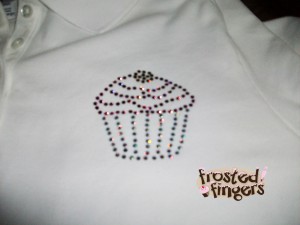 I decided to go with a custom polo shirt so I can wear it to events and conferences. Based on the size chart I needed a XXL, which in the real world I normally need a L or at most an XL and the XL would be big on me. When the shirt arrived I was so excited. I really love the design! I had a blogging event coming up that week and was excited to wear it. So the day comes for the event and I throw it on and want to start crying. The shirt is extremely too tight. The shirt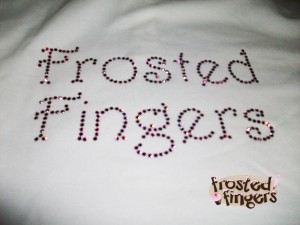 itself is very soft and great material. I love the way the cupcake on the front looks and the words "Frosted Fingers" on the back. I just can't wear it right now, unfortunately. Starting tonight I am restarting 20 second fitness and hope to be able to wear the shirt really soon. It won't be before BlogHer, I'm sure, though. You can see in the picture below how it hugs all of my not-so-attractive curves. The size is the only disappointment in the shirt. Like I said, the quality is wonderful. I really can't wait to wear it, for many reasons. I can't wear it because I love it and if I'm wearing it, it means I'm more comfortable with my weight! I'll do a follow up post every time I lose 10 pounds so you can see how the shirt fits better.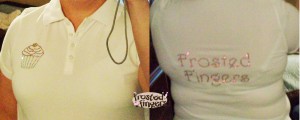 I definitely recommend Just Jen for your customized T-shirt needs. If you have bigger people, though, I'd probably go with an unisex t-shirt or hoodie instead of a polo or other type of shirt. Anything but the unisex shirt, the biggest size is a size 18 (and that does not come in a polo, or else I'd probably be fine.) Pricing on the shirts starts at $29.90 each. I think my shirt would have been around $45 as designed.
I was given the shirt in exchange for a post and my opinions. All opinions are my own. Thank you to Just Jen for supplying the shirt to me.