I was recently given a challenge to come up with a dairy recipe to bring on a picnic with us for National Dairy Month and Safeway. I found this recipe somehow and kept it in ones I wanted to try. When I got this challenge, I decided I'd try this recipe out!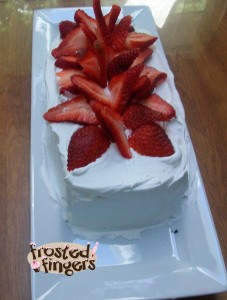 Recipe adapted from All Recipes
Ingredients:
4 c fresh strawberries, divided
1 (14 ounce) can Sweetened Condensed Milk
1/4 c lemon juice
1 (8 ounce) tub Whipped Topping, thawed, divided
8 OREO Chocolate Sandwich Cookies, finely chopped
1 tablespoon butter, melted
Directions:
Line 9×5-inch loaf pan with foil, with ends of foil extending over sides of pan. Mash 2 cups of the strawberries in large bowl. Add condensed milk, juice and 2 cups of the whipped topping; mix well. Pour into prepared pan.
Mix chopped cookies and butter. Spoon over whipped topping mixture. Cover with ends of foil and gently press cookie mixture into whipped topping mixture. Freeze 6 hours or until firm.
Invert dessert onto serving plate when ready to serve; remove pan and foil. Spread remaining whipped topping onto top and sides of dessert. Slice remaining 2 cups strawberries; arrange over dessert. Store leftovers in freezer.
For my step by step pictures that I usually share, you can look at my Intersect Story.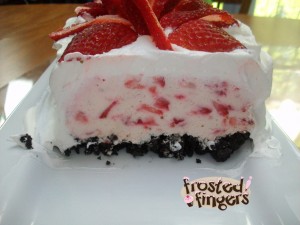 I had to go to my local Safeway store and do my shopping for my recipe. I shopped at Dominick's. I like how clean the store always is there. The lighting is different from any store I shop in. It's always softer; easier on the eyes. After making the dessert I had to take it on a picnic. I met a couple girlfriends and their kids at a local park and had a picnic lunch and played for two hours. We had a great time. Unfortunately I left about 1/3 of the dessert at home so my husband could try it and it left us all with just a little bit more than a spoonful to try. Whoops! Not good planning on my part! We all really enjoyed it, though. I was reading on All Recipes where others substituted other fruits for the strawberries. I may try that next time. Either way, I'll be making this dessert again in the future. YUM! Make sure if you do take this with you on a picnic to pack it on ice!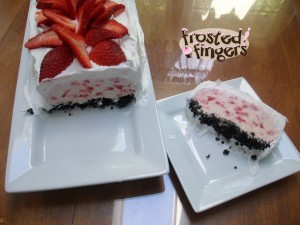 For other fun National Dairy Month and Safeway recipes, visit http://packyourpicnic.com.
This project has been compensated as part of the June Dairy program for Safeway and Collective Bias. All opinions are my own.