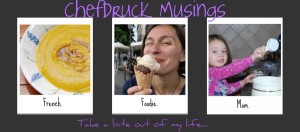 Ok, I'm trying to get back into my weekly blogging. I've been intending to feature Vanessa since April 8! That's how far behind I am. Since that time I think I've seen her at two events around Chicago.
Vanessa has an awesome blog with tons of great recipes. Her Sour Cream Banana Muffins with Oatmeal Crumble look incredible. I want to give those a try.
Here's a little about Vanessa:
I grew up in France where my mother still lives. We moved around a lot due to my father's job and before I graduated from college in DC, I got to live in France, England, New York, Brazil, Morocco, and Barcelona. All that travel just left me craving more, more tastes, more smells, more adventure. I'm happiest when packing a suitcase, or four.

I am not a classically trained chef. I took a lot of recreational cooking classes after graduating from college at the Institute of Culinary Education in NYC, but I decided to get my MBA instead of leaving my marketing job to work in a kitchen. I learned most of what I know in my mother's kitchen in France. I am the chef of my home kitchen, and I aspire to be a true chef, one day, when I grow up.

The dream begins after my kids leave the nest for college or other pursuits. That's when my husband and I will spend a couple of years traveling the world attending various cooking schools. And then we'll come back to a cozy little town somewhere in the States and open up our little restaurant. We hope you'll drop by and break bread with us.
It's always a pleasure running into Vanessa at events. She's very nice to talk to; she has a great personality!
Here are some ways to connect with Vanessa:
Blog: ChefDruck Musings

Facebook

Twitter

Email