Recipe adapted from All Recipes.
Ingredients:
1 (2 pound) pork tenderloin I didn't weigh mine, I just used 2.
1 (1 oz) envelope of dry onion soup mix
1 cup water
3/4 cup red wine
3 T minced garlic
3 T soy sauce
Fresh Parmesan cheese flakes I added these this time. It's good with or without in this recipe.
freshly ground black pepper to taste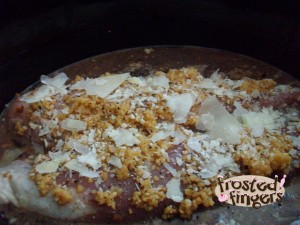 Directions:
Place pork tenderloin in slow cooker with the contents of soup packet
Pour water, wine and soy sauce over the top, turning the pork to coat
Carefully spread garlic over the pork, leaving as much on top of the roast during cooking as possible
Sprinkle with Parmesan cheese and pepper
Cover and cook on low for 4 hours
Serve with liquid on the side as au jus.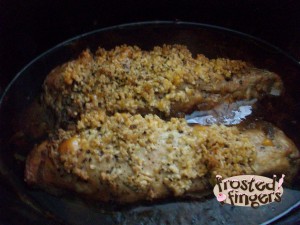 I've made this recipe twice now and have loved it both times. It's so easy to throw together and unlike a lot of slow cooker recipes, it only takes 4 hours to cook. When my husband has to work the late shift, this is a great recipe to start at breakfast so I can feed him a great lunch before he leaves.