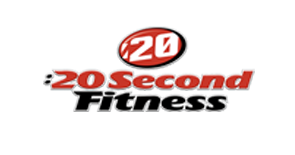 I completed Week 1 of :20 Second Fitness last night!! I'm so proud of myself that I've gotten this far. I should have finished Week 1 on Saturday since I started on Monday, but life got in the way Tuesday and Wednesday and I didn't work out. So far I am really loving this program. I love how easy it is to fit into my day. I exercise right before bed every night now. It's most definitely an intense workout. I get done with my 4-5 minutes, depending on the day, and I'm huffing and puffing. I wake up a little sore in the morning. The good sore, though, the kind that tells you "You worked out yesterday" not the "You overdid it yesterday." I do have some pretty nasty pain in my right elbow, but it's not from doing this program. I went to Just Muscles class on Saturday morning and totally overdid it. If I'm doing an exercise I can't handle with my elbow, I don't push it. The other day I had to do two sets of push-ups.  I did the first set slowly and then instead of pushing it I did plank for the second set.
I have to say, Spencer from the video has been totally motivating and helpful to me throughout the process. He really cares that the people that get this video series gets the most out of it! This next week he asked us all to set a goal to make a small change in our eating habits. This week I choose to give up the rest of soda all the way. I gave up caffeine a while ago due to migraines, but I still drink too much Sprite. So good bye soda!
Now for the results of week 1: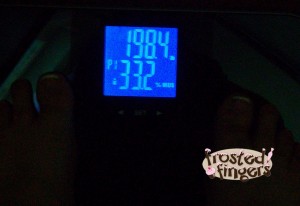 | | | |
| --- | --- | --- |
| | 5/23/2011 | 5/30/2011 |
| Weight | 199.8 | 198.4 |
| Waist | 42.5 | |
| Hips | 48.5 | |
| Thigh | 25 | |
| Arm | 13 | |
| Muscle % | 35.20% | 33.30% |
| Fat % | 40.10% | 40.60% |
| TBW% | 35.70% | 36.40% |
| Bone | 4.4 | 4.2 |
Down 1.4 lbs! Wooo!! My body percentages are screwy because the first time I weighed in I did it at night. I've switched to morning weigh ins so hopefully that will all work itself out soon. I think I'll do my measurements every other week instead of weekly. So hopefully you'll check in next week to see my success! I've still yet to take a good before picture. I need to get on that!
Buy It:
20 Second Fitness is $99.99 or 3 payments of $39.99. Plus you pay shipping of $18.95. I have a code here for you so you can get free shipping! Use the code: frosted fingers for free shipping.
Check out these other great bloggers who are using 20 Second Fitness!
The One Fantastical – Warmup Week 1, Day 1
What is a 20-SECOND FITNESS Workout? Will it Work for Me? from Connie @ MiscFinds4u
I was given a 20 Second Fitness Program kit free of charge in order to try it out and report back on my progress. I received no monetary compensation and all thoughts and opinions are my own. Always check with your doctor first before starting any fitness routine or program.