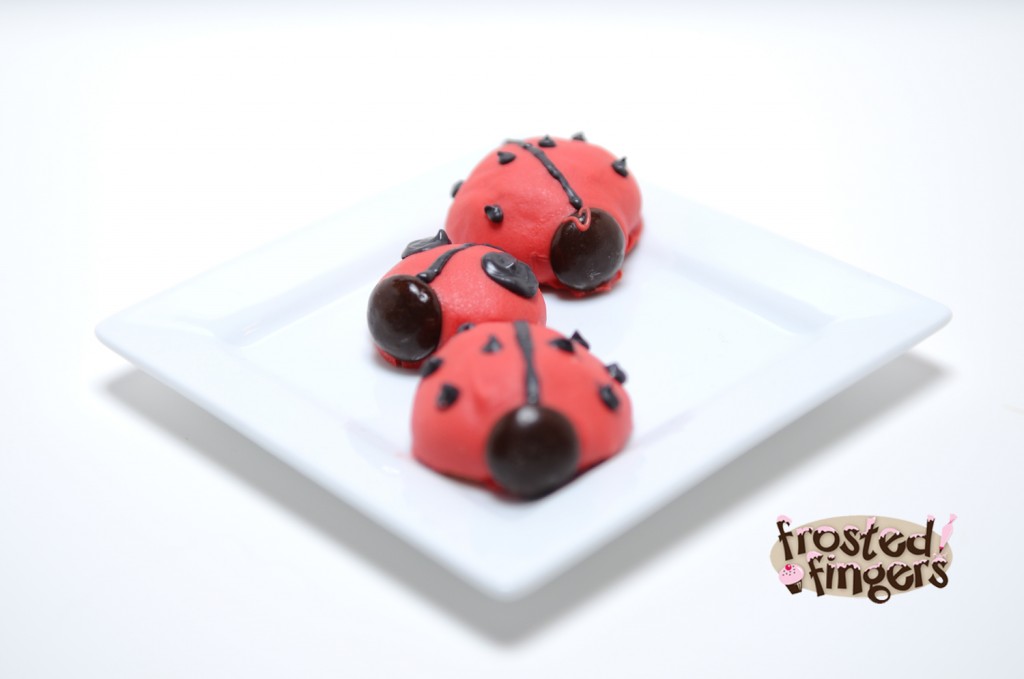 Recipe adapted from Family Fun Magazine.
Ingredients: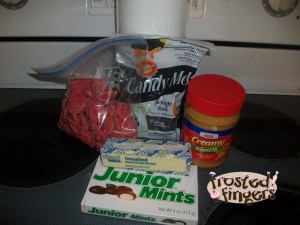 1/2 c creamy peanut butter
3 T softened butter
1 c powdered' sugar
Junior Mints
1 cup red candy chips (I used Wilton Candy Melts)
1/2 c black candy chips (I used Wilton Candy Melts) or black decorator gel
Directions:
Mix the peanut butter, butter, and powdered sugar together until well blended. Roll the mixture into about balls using 1 T of mixture per ball.
Place the balls on wax paper and gently flatten their bottoms. Or you can be like me and throw the balls at the wax paper so they have flat bottoms from hitting so hard. 🙂 
Melt the red candy chips according to package directions.
Dip your bug body into the red candy melts with a fork. Tap on the side of your bowl. Use your Junior Mint to push the body off the fork and it now becomes the head. 
Let your lady bugs harden. As they are hardening up, place your black chips into a pastry bag and melt in the microwave.
Put a stripe down the back of the bug and dots.
Let harden completely and if your bugs were all messy like mine, just break off the extra drizzles.
My family loved these little guys and could not get enough of them! My husband said they tasted like the peanut butter filling in the Girl Scout chocolate covered peanut butter cookies. Luckily they went fast and I only got 2. They're not very Weight Watcher friendly!! (I made these before Lent, so I was able to have more than 1.) 😉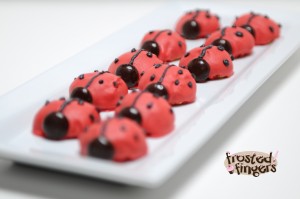 Photos taken by Rob Krueger Photography.