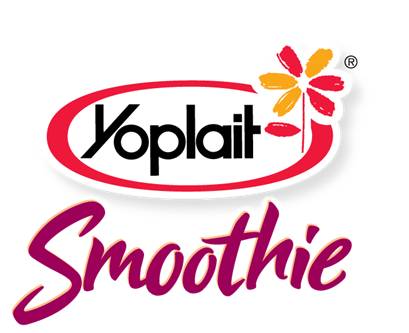 I was able to try Yoplait's new Blueberry Pomegranate frozen smoothie. I love the ease of the mix. Each pouch makes 2 servings and each serving has one full serving of fruit. Yoplait Frozen Smoothies provide an easy way to enjoy great-tasting, frozen fruit smoothies at home.
Including Yoplait Frozen Smoothies in your diet is a quick and easy way to help you get important nutrients, like vitamin C or calcium your body needs. And with seven out of every ten Americans not eating the recommended two to four servings of fruit per day, Yoplait Frozen Smoothies could help you reach that goal. Each package of Yoplait Frozen Smoothies contains one full serving of fruit (1/2 cup) and 110 to 120 calories per serving. Not only does Yoplait yogurt contain live and active cultures, but when prepared with skim milk and made according to package directions, Yoplait Frozen Smoothies are a good source of calcium.
The blueberry pomegranate had a good flavor, but is not my favorite when it comes to smoothies. I like strawberries, mango, pineapple, more of a tropical fruit flavor. I had no problems finding the smoothies in the freezer section. Yoplait has 4 flavors to choose from: Blueberry Pomegranate, Strawberry Banana, Strawberry Mango Pineapple, & Triple Berry. I should have tried the Strawberry Mango Pineapple, but it was out of stock while I was at the store!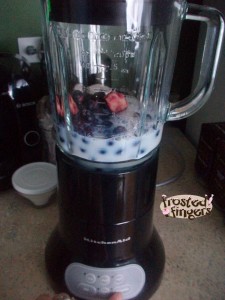 I also got to try out this awesome KitchenAid blender. It has 3 speeds, chop ice and a special button just for smoothies! It blended my smoothie super fast. I love how easily it comes apart to clean. There's nothing worse than trying to stick your arm down into a pitcher to clean out around blades. Luckily the KitchenAid blender comes completely apart so you're not playing death match with your blender and fingers!
Also, when you like Yoplait Smoothie on Facebook you can get a $1 off coupon!
Win It:
Your Winner

Author: Christine
Comment: permalink
Triple Berry
One of my lucky readers will win a coupon to try a Yoplait Smoothie on their own along with a 3 speed KitchenAid mixer to make that smoothie right at home!
Mandatory Entry
Tell me which flavor of smoothie you would like to try
Extra Entries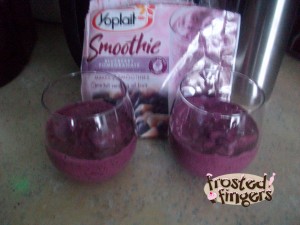 Giveaway is open to US readers only. It will close 3/9/11. A big thank you to Yoplait for giving me a Yoplait smoothie mix and to KitchenAid for giving me the 3 speed KitchenAid blender and one to the winner. Winner will be selected by the And The Winner Is plugin. Winner will be posted here on Frosted Fingers and notified by email. Winner will have 48 hours to claim the prize. While I was given these items in exchange for a review, all opinions are mine.
Other Reviews/Giveaways
2Wired2Tired (giveaway ended)
Sage and Savvy (ends 2/28)
Frugal Free Gal (ends 2/23)
A Thrifty Mom (giveaway ended)