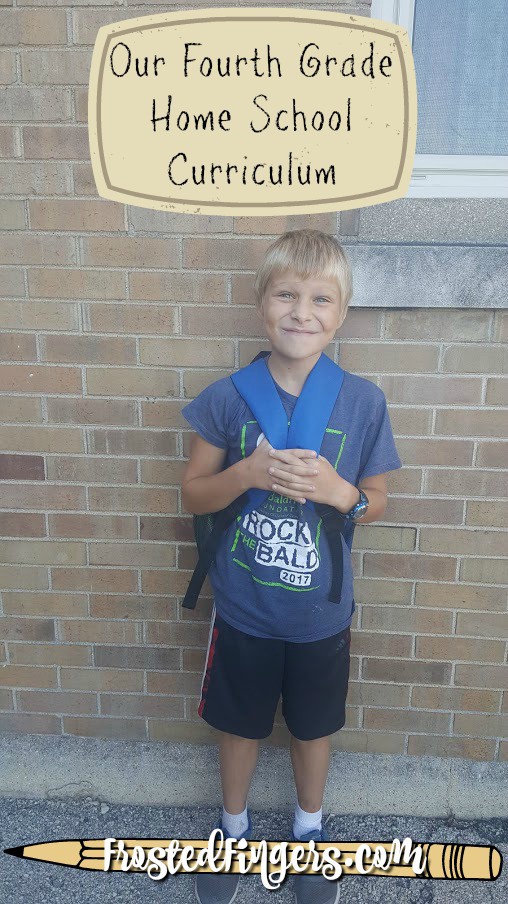 Welcome to my home school curriculum series. This week we are going over our fourth grade curriculum that we are using this year in our home.
Reading Level E Readers Sonlight: We are exploring US History starting with the Civil War this year and the books follow along with our history. He's reading great books such as By The Great Horn Spoon, Old Yeller, and Helen Keller.- I think we are going to switch to Grade 4 Faith and Freedom set from Seton because he's struggling a tiny bit with these bigger books.
Grammar: He is doing Language of God Level C for fourth grade from Catholic Heritage Curriculum.
Spelling: He is using Seton's Spelling 4 for Young Catholics.
Teaching Textbooks Math 5: He's a year ahead in math and would possibly be two years but I didn't want to miss anything important.
Handwriting: He'd be mortified that I showed you the handwriting he's using because he said it's a baby book. We are working on perfecting where his strokes come from this year so that his handwriting is neater and it'll be easier for cursive. He was doing cursive this year but he was basically just drawing because he had no concept of what letter he was writing.
Art: He does art as a part of our co-op besides doing Classically Catholic Memory, I'm not sure if they're using a program for Art or just studying different art pieces and trying to copy them.
Extra Curricular Activities:
Cub Scouts
Tennis lessons when the weather is appropriate
Ninja classes- learning to be agile like the contestants on American Ninja Warrior
Our other kid's curriculum
Eighth Grade Home School Curriculum
Sixth Grade Home School Curriculum