Part 1 Family work and 8th Grade Work
We started our year off in August with a bang with first week of home school in Washington, D.C. on a family trip. We got in a lot of sightseeing but didn't even brush the surface of what's available to see there. Our family is transitioning to year round home school this year by trying to spread out some of our reading in Sonlight. You see, we have some weeks that we have 2 days away from the home and I want to be sure to cover all the material needed. We also had an issue this past summer with "summer slide" and reading ability. I figure if we at least partially home school during the summer we will keep the brains sharp and ready for the fall. We may even have two going off to public school next year so I want them to be as prepared as possible before they go.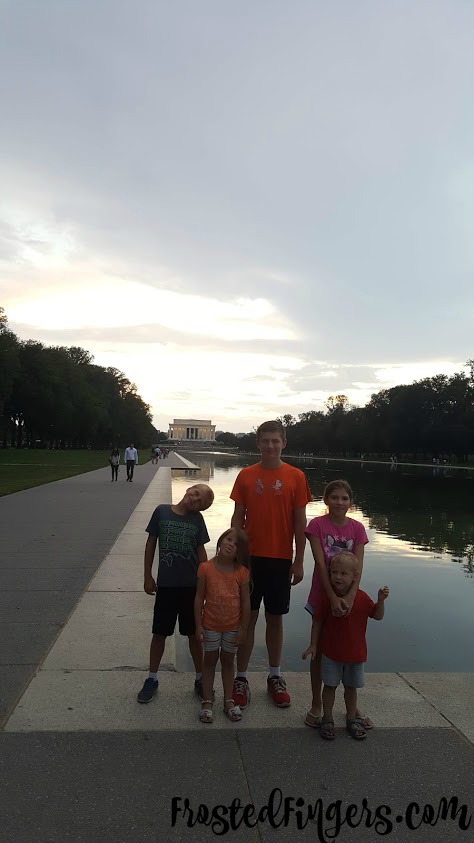 Our curriculum this year is so all over the place with everything we are doing. Today I'm going to go over our family work and eighth grade curriculum. Keep with me for the next few weeks as I share what we are doing for all our kids in home school.
Family Work
Children's Daily Prayer: Each morning we start our day with the daily Catholic readings and pray for our family, friends, neighbors, and those around the world.
Classically Catholic Memory: This is part of our weekly co-op. We learn things such as Latin, skip counting, science, history, geography, and poetry memorization. We go through this every morning before moving on with the day. It really doesn't take long and we are learning so much. I can currently name all of the continents, oceans, and 8 of the Canadian Providences and point them out on a map. (This is something this geographically challenged woman could NEVER do!) Can't wait to do the same for the United States!
Seton Religion 6: As a family we are going through the 6th Grade Religion book from Seton Homeschool. This grade level focuses on learning the Apostle's Creed, Commandments, and Sacraments.
Sonlight Core E: This year with Sonlight we are focusing on the second half of American History starting with the Civil War. I love how much we learn from Sonlight. It is our living learning of history.
Gabe's Work- Grade 8
Literature 130: Gabe is doing the readers from Sonlight 130 which is American Historical Literature. He has some great books on his reading list this year such as Call of the Wild, Rip Van Winkle, and The Adventures of Tom Sawyer.
Grammar: He is doing Language of God Level G for eighth grade from Catholic Heritage Curriculum.
Teaching Textbooks Algebra I: This is pretty self-explanatory. 🙂
First Form Latin: This is part of our co-op. He has plenty to do at home with it.
Handwriting: He's continuing his handwriting with Better Handwriting for Young Catholics by Seton Home school.
Ever Ancient, Ever New Art: Another part of our co-op. He is creating some awesome art already and we've only been going for 3 sessions.
IEW Writing Intensive B: More of his co-op work, he is learning how to take notes and retell stories from his notes.
Exploring Creation with General Science: Last of his co-op work. He is learning general science which we we do all reading and experiments at home.
Extra Curricular Activities:
Boy Scouts
Go Pro Travel Baseball Team 13U Camaj
Riverside Center for Imaginative Learning Tutorial Program: The apprentices act out dramas on stage, radio, film, and even in the outdoors; they sketch the natural world around them, they build imaginary worlds; write new stories; recite poetry at great feasts; put to memory and sing ballads; and most importantly they see the connection between meaningful creative work and culture.
Tutorial is a place where boys become a brotherhood of creative and courageous men of culture, who see this life as an adventurous pilgrimage to heaven.
Our other kid's curriculum
Sixth Grade Home School Curriculum
Fourth Grade Home School Curriculum