This summer my family has the Unlimited Family Pass to Brookfield Zoo and I can't wait to have some fun with my kids. One of the options is Summer Nights where there will be live music, face painting, and lots of family fun. Below is the schedule for this summer at Brookfield Zoo in Chicago.
Brookfield Zoo's evening event, Summer Nights sponsored by Meijer and the Illinois Farm Bureau, is back and ready to rock the house! Beginning this June, guests can unwind with live music and fun activities for the entire family on Friday and Saturday nights beginning June 17 and continuing through August 13, from 4:00 to 9:00 p.m.
Zoogoers can get up and dance or just relax with family and friends while listening to live music. In addition, there will be special Zoo Chats featuring the zoo's animal ambassadors, kid-friendly activities, dining experiences, and a new spectacular laser light and video show to top off each evening.
The fun takes place on the East Mall, starting with local musicians at 4:00 p.m. Popular local and national bands will continue the festive atmosphere, playing music from a variety of genres, including rock, pop, country, jazz, and folk. Headliners begin performing at 7:00 p.m., and include:
· Friday, June 17 – Mississippi Heat, straight out of Chicago, has been performing and recording pure vintage blues for more than two decades, living by the motto "Traditional blues with a unique sound."
· Saturday, June 18 – Sushi Roll is made up of one part driving rock band, one part light-hearted pop, and one part over-the-top theatrical verve!
· Friday, June 24 – Marcia Ball, a Texas‐born, Louisiana-raised musical storyteller, has the ability to ignite a full-scale roadhouse rhythm and blues party every time she strolls onto the stage. Her groove-laden New Orleans boogie, deeply soulful ballads and rollicking Gulf Coast blues have made her a one-of-a‐kind favorite with music fans all over the world.
· Saturday, June 25 – Run Forest Run is the answer to all things 90s! We're talking about warping all the way back to playing on your Game Boy, reading Goosebumps and popping some Warheads while listening to music on your Walkman.
· Friday, July 1 – Mr. Meyers blends the sounds of calypso and ska, the rhythms of reggae and a touch of rock and roll with some favorite tunes to create their own special style of music—Caribbean Rock.
· Saturday, July 2 – Infinity covers everything from classic to current music and is known for its outgoing personality. If you have ever seen this band, you know exactly what to expect. If not, expect the unexpected!
· Friday, July 8 – Sixteen Candles makes it their personal duty and pleasure to bring all the great 80s songs you love to life in full force. The members are five fun and energetic guys with a simple love for the music of years gone by and a mission to fuse nostalgia and style to create a sight/sound spectacular unlike any other.
· Saturday, July 9 – Nick Lynch has been gearing up for his time to shine on the country music scene, from getting a golden ticket on "American Idol" in 2008 to rockin' New Year's Eve on ABC in 2013. He is a little bit country, a little bit rock and roll.
· Friday, July 15 – American English is simply the best Beatles tribute story of our time. The fantasy lives on with these remarkable musicians who take the music to the highest level possible. Whether you grew up with the Fab Four or not, this show will be your window to the past.
· Saturday, July 16 – The Ides of March began in Berwyn, Ill., in October 1964, as "The Shon-Dels." In 1966, after changing their name to The Ides of March, the band released its first single "You Wouldn't Listen" on Parrot Records. In 1970, the band released "Vehicle," which, at the time, became the fastest selling single in Warner Brothers history. From 1973 to 1990, the band took an extended hiatus, during which time lead singer Jim Peterik founded the band Survivor and co-wrote all their platinum hits, including "The Eye of the Tiger," "The Search Is Over," "High on You," and "I Can't Hold Back." Peterik also collaborated on song writing that resulted in platinum hits for other artists (most notably "Hold on Loosely," "Rockin' into the Night," "Fantasy Girl" and "Wild-Eyed Southern Boys" for .38 Special and "Heavy Metal" for Sammy Hagar). The six original band members have been touring since 1990 and celebrated its 50th anniversary in 2015.
· Friday, July 22 – Swing Assembly is the stylish, sophisticated answer to the modern party band. With a repertoire spanning 80 years, the band mixes the elegance of a swing band with the festivity of contemporary funk, soul, and pop. Featuring two vocalists, six horns, and the hippest four-piece rhythm section in the Chicago area, they can go from the most delicate ballad to the funkiest dance tune at the drop of a hat.
· Saturday, July 23 – Frisky Taylor personifies the ambience of electronic dance music and the stimulation of power pop. Their attention to detail and sound quality allows them to link chart-topping radio hits into DJ-style medleys to keep you dancing all night long.
· Friday, July 29 – Boy Band Review has captured the hearts of fans with their boyband shows that transport audience members back in time to the days of frosted tips and hunky frontmen professing their undying love.
· Saturday, July 30 – Billy Croft & The 5 Alarm Taylor is a red-hot smokin', top 40 country band, burnin' up the country music scene in Illinois! If you are looking for fun and have a taste for country music that kicks like moonshine, Billy Croft & The 5 Alarm has got you covered!
· Friday, August 5 – The Willis Clan is a family of amazing musicians, dancers, athletes, writers, and artists. Living near Nashville Tenn., they merge their Irish roots with other music and dance genres to create a unique blend of the old and new.
· Saturday, August 6 – House Party featuring DJ Maurice "ICE" Culpepper, with DJ Gene Hunt, and DJ Alicia: At the helm of Hot Mix Entertainment is acclaimed Chicagoland personality and award-winning DJ Scott "Smokin'" Silz, of the famed Hot Mix 5 radio team. Gene Hunt is a key DJ who helped shape house and techno music worldwide, Gene is no doubt a true innovator of the Chicago house sound. DJ Alicia, a Chicago native, plays House exclusively and is enjoying the musical journey.
· Friday, August 12 – Rebirth Brass Band is a true New Orleans institution. The Grammy-winning band was formed in 1983 by the Frazier brothers, the band has evolved from playing the streets of the French Quarter to playing festivals and stages all over the world. While committed to upholding the tradition of brass bands, they've also extended themselves into the realms of funk and hip-hop to create their signature sound.
· Saturday, August 13 – Unity the Band is an award-winning original roots reggae group based in Wisconsin. Their positive party vibes and the knack for drawing club crowds into the irie groove. They treat fans to old Roots Reggae faves, along with original music blending influences of roots, rock, blues, funk and reggae into their own unique sound.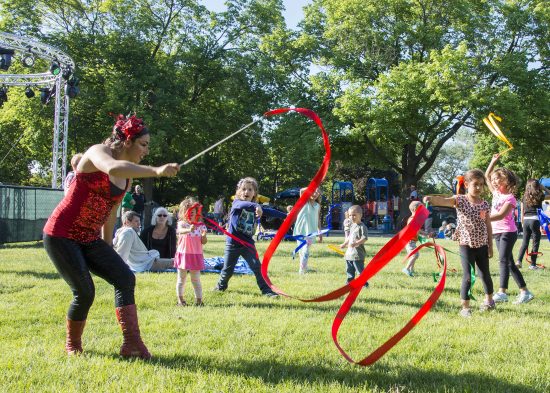 Great family entertainment will take place every evening of Summer Nights with themed roaming performers from 5 p.m. to 9:00 p.m. Fun kids' entertainment on the East Mall Playground Stage, presented by JULIE, Inc., starts at 6:00 p.m. for children to watch and laugh in amazement during game shows, magic shows, or juggling acts.
Several of the animal exhibits will remain open until 8:30 p.m., including The Fragile Desert, Butterflies!, Dolphins Underwater Viewing, Clouded Leopard Rain Forest, Hamill Family Wild Encounters, Pinniped Point, and The Swamp. Hamill Family Play Zoo will remain open until 6:00 p.m. Families can be wowed at a 6:00 p.m. Dolphins in Action and then venture to the west side of the zoo for a 7:00 p.m. Festival of Flight bird show. In addition, guests can get up close to some of the animal ambassadors during Zoo Chats on the East Mall every hour on the hour from 5:00 to 8:00 p.m.
At Summer Nights, guests can choose from a unique selection of scrumptious food and beverage items from the Beer Garden and the many restaurants open late during the festivities, including: Castaway Grill, South Snacks, BZ Red Hots, All American Popcorn, and Oaks Café. Several of the zoo's gift shops will also be open.
General admission to the zoo is $17.85 for adults and $12.50 for children ages 3-11 and seniors 65 and over. Parking is $11. Guests who arrive after 4:00 p.m. for Summer Nights receive value pricing of $15.95 for adults and $10.95 for children ages 3-11 and seniors 65 and over. Take an additional $1 off admission if you pre-purchase tickets online. Children 2 and under are free. Parking is $5.00 after 4:00 p.m. Special value pricing also includes a choice of one free attraction—Butterflies!, The Carousel, Dolphins in Action (6:00 p.m.), Hamill Family Play Zoo (closes at 6:00 p.m.), or Hamill Family Wild Encounters.
For additional information about Summer Nights and to pre-purchase tickets, visit www.CZS.org/SummerNights.