This is a guest post brought to you by Samantha Schultz:
Samantha Schultz writes about all things life and parenthood on her blog, The Peanuts Gang. With two boys (Charlie & Jack) and a high school sweetheart hubby, they experience the adventures of this crazed life – sharing along the way. She and her family live just outside Chicago.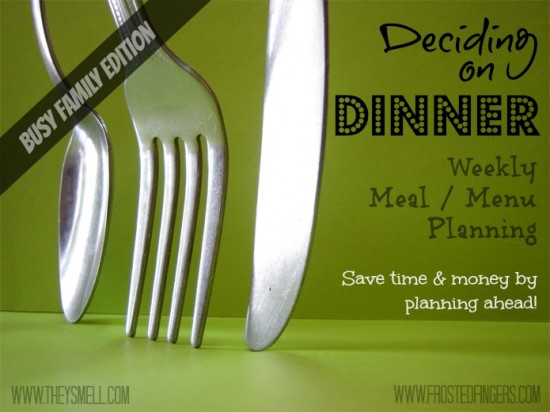 My family and I recently moved and our house is a blank slate! With that, I'm also feeling a strange desire to get back to meal planning, food preparation, and finding a space in my house like I see on Pinterest to display our weekly menu. By being organized, I think I'll have a better handle on what to make and will feel less of the urge to grab for takeout when in a pinch.
I thought I'd share a few of my favorite finds on Pinterest so you can get some inspiration for your own meal planning.
I LOVE this space because it incorporates everything I'm looking for, uses simple frames and glass, but also incorporates the monthly meal plan. Even better, it utilizes dry erase, so no wasted paper, things to throw away and I can change things up whenever necessary. It also looks pretty simple to make which is my favorite thing ever!
Refrigerator Menu Planning
This simplified Menu Plan is displayed on your refrigerator – right where you would need it! Organized by day, you can reuse your favorite options and simply add them each week. I love the idea of having a consistent rotation of meals that I know how to make, that my family will eat, and that we usually have the supplies on hand.
This stylish concept is simplified and doesn't take up much wall space. The chalkboard and cork board make it easy to jot down notes, keep a schedule, and pin up recipes that I might be interested in making in the future. It's definitely clear that this would fit in with my kitchen, but think I might want to add a little bit more to the wall to beef it up.
This chalkboard/menu/calendar inspiration fits perfectly on a small wall and could be exactly what I need! I love the incorporation of organization with planning and preparation along with style and function. The pieces all seem to fit together well and look well-thought out and planned. I'm excited to get started!
What are your favorite ways to keep your meal planning organized? Where do you find inspiration for your weekly menu?