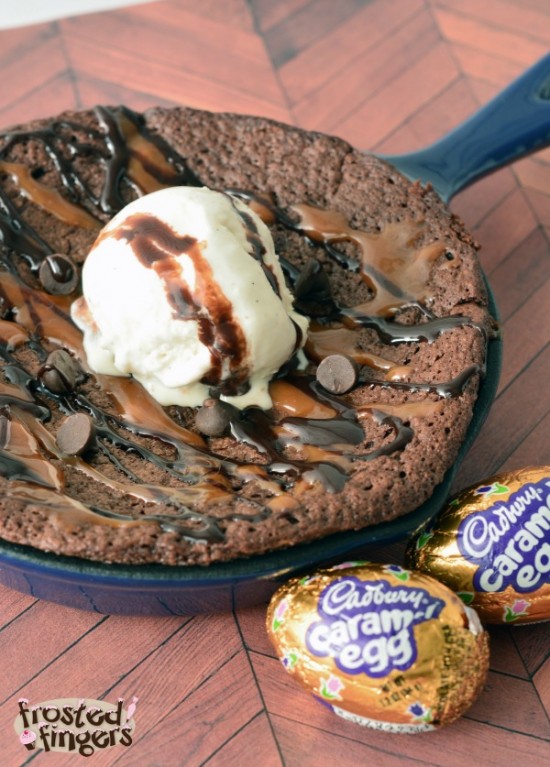 When it comes to caramel, it is my kryptonite! Give me anything that has caramel and I'm in heaven! My mom used to love the original Cadbury egg, but I can't eat them because they cause a headache for me. When Cadbury came out with the caramel egg, though… yum!!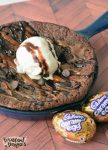 Cadbury Caramel Brownie Skillet
Ingredients
1

Stick Salted Butter

1.5

oz

Powdered Cocoa

4

oz

Chocolate Chips

2

Large Eggs

1

Teaspoon

Vanilla Extract

1

Teaspoon

Cinnamon

1/2

Cup

Granulated Sugar

1/4

Cup

Brown Sugar

1/4

Cup

All Purpose Flour

1

Teaspoon

Baking Soda

Topping - Caramel Cadbury Egg and/or Your Favorite Ice Cream
Instructions
Pre-heat the oven to 350.

In a small microwaveable bowl, add the butter, cocoa and chocolate chips and heat in the microwave for 45 seconds. Stir and put back in and microwave in 15 seconds increments until the chocolate is melted. Chocolate burns easily so don't over cook!! Set aside.

In a large mixing bowl, stir the eggs, vanilla, sugar and brown sugar together until combined. Add the chocolate sauce into this sauce and let stand to cool.

In a large bowl, mix the flour and baking powder together. Add this mixture to the chocolate mixture.

Divide evenly into 2 small cast iron pans and bake for 22-25 minutes.

Once out of the oven, open up the Cadbury Eggs and drizzle the middle over the brownie and top with ice cream.

Enjoy!