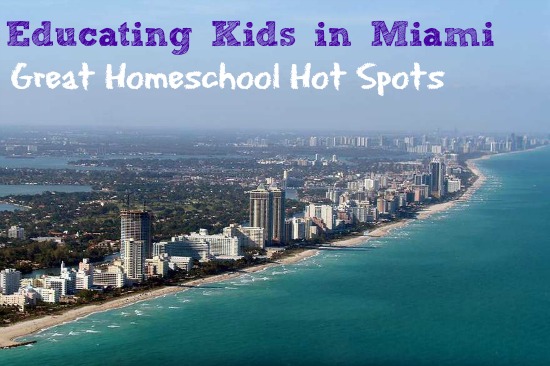 Home-schooling is becoming a very popular option for families all over the world. For all sorts of reasons, parents have taken education upon themselves and created real-world learning experiences and innovative customised curriculum for curious kids. Having access to events, museums and other educational activities in the local area are great ways to supplement any home-schooling curriculum. Miami is one of the best cities to home-school thanks to the gorgeous and myriad fascinating educational places for families to visit. Here are some of the greatest educational attractions in the Miami area.
Jungle Island Miami
Formerly known as Parrot Jungle Island, this quirky and fascinating destination provides visitors with activities that are both fun and educational. Kids can get a close-up view of tropical birds in near exact replicas of their natural habitats as well as some larger animals like tigers and orangutans! There is a regular roster of field trips coming through, plenty of educational programming to bolster the calendar of events and three shows daily about various residents of the Island. Jungle Island is a great place to spark curiosity and learn about animals and habitats that most children have only ever dreamed of.
Miami Museum of Science
For a great indoor outing, head to the Miami Museum of Science. There is a rotating schedule of kid-friendly exhibitions that are creative, interactive and exciting for children of all ages. There are plenty of permanent attractions as well which offer educational opportunities of all sorts for the whole family; consider exploring the Bird of Prey Research Center for a little biology lesson in the morning and then onto the Weintraub Observatory in the afternoon for some space exploration.
The Florida Everglades
Regularly touted as one of the most fascinating public parks in America, the Everglades boasts 1.5 million acres of swamps, saw-grass prairies and sub-tropical jungles. The park is home to 14 rare and endangered species like the Florida Panther, West Indian Manatee and of course – the American crocodile. There are few outings that kids will enjoy more than exploring this famed wild landscape. Visitors can walk, canoe and even camp in the park which for most children is a veritable wonderland of educational fun and adventure.
Miami Children's Museum
The museum's motto is 'Play, Learn, Imagine, Create', which makes it an ideal home-schooling outing. Children are encouraged to explore their minds and interact with the various exhibits which include opportunities for kids to explore every type of space from supermarkets to television studios, learning and growing as they play. The Children's Museum is a great place to come back to as there's so much to see and do and the visiting exhibitions, like the current Dora & Diego one, change regularly. It's a hands-on place with a mission to engage children in fun and exciting ways.
Miami is an incredible city to use as a classroom. There are opportunities to explore both the natural and manmade worlds, to engage kids with world-class educational museums and support new ways of learning through tactile and tantalising experiences. From the birds of Jungle Island to the wild backcountry of the Everglades, Miami has everything parents need to cultivate curious and worldly kids.
Note: Content provided on behalf of our site partner