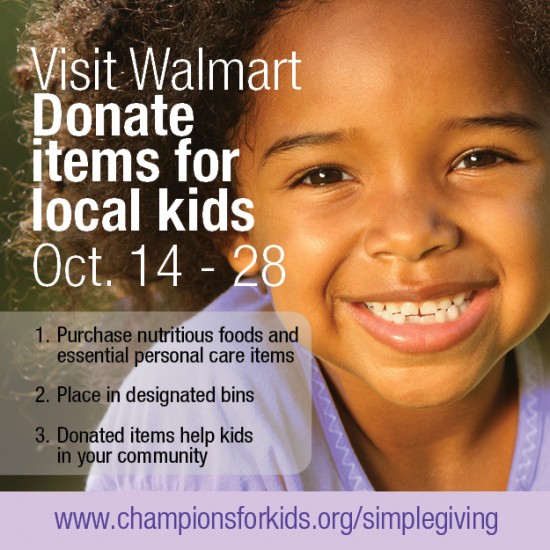 For families in need, having access to healthy food and personal care items can be a daily challenge. My husband and I do our best to show our kids how important it is to give to people in need. We do service projects through scouts such as adopting a family for Christmas where the whole pack will pitch in money to buy the family presents and food gift cards to help them have a happier Christmas. We donate coats to those in need in the winter. Our pack does Feed My Starving Children to pack food for kids overseas that don't have any food. On a family level we have them put money in the collection plate at church. We will buy a burger for a homeless person and we've even helped give homeless work in the past when we lived in Florida.
Champions for Kids, General Mills and Unilever, have joined forces to make it simple for communities to provide basic resources for their students through donation opportunities.
According to the 2010 U.S. Census, over 16 million American children live in poverty. This means that in addition to being hungry, millions of children lack other basic items they need to thrive.
In fact, Feeding America reports that families who struggle financially often make difficult trade-offs: nearly three in four (73 percent) of low-income families have cut back on food in order to afford products such as personal care and baby care items. Research from the National Scientific Council on the Developing Child shows that food insecurity is linked to poorer performance in school and increased illness.
Between now and October 27 you can visit your local Walmart and place purchased food or personal items inside a bin for the Champions for Kids program. All donations will stay in the local community and be distributed through school districts nearest to each store. Champions for Kids, General Mills and Unilever are awarding school districts in each participating Walmart division that collect the most donated items.
For more information on the program, visit http://championsforkids.org/simplegiving
What kind of ways do you try to help out your community by giving back?