It's back to school time and it's not just time to think about what teacher your child got or the giant list of school supplies. Back to school time is also a time to think about teaching your child about kindness and acceptance. My kids aren't going back to a brick and mortar school because we are homeschooling, but that doesn't mean they don't need to worry about these two things. We joined a homeschooling co-op and they will still be having some classes with other students once a week. They need to make sure that are kind and accepting to whoever they meet there (and in life in general!)
I've been having a few small challenges with Buddy that I'm working on lately. I had become to lax with him, doing too much joking around, now he thinks it's ok to talk back and have an answer to everything. Sometimes his "answers" aren't kind. Don't get me wrong, he's not a bad kid at all and if you met him I'm sure he wouldn't talk back to YOU. 🙂 I just need to nip this behavior now so it doesn't get out of control. I also need to make sure that he (and his siblings) are kind to each other since overall they don't see anyone else during the day to break it up.
Here's a list of movies and shows for the older kids in your life, although my kids all love Good Luck Charlie and they like Mulan as well.
1. Rudy
2. Mulan
3. A Mile in His Shoes
4. Radio
5. Good Luck Charlie: Down a Tree
6. Glee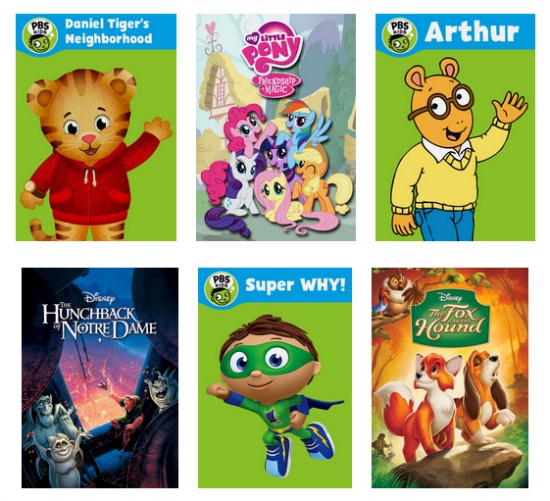 For the younger kids in your life, you can use these shows and movies to teach kindness and acceptance:
1. Daniel Tiger's Neighborhood, Vol. 1 Ep. 6: Friends Help Each Other
2. My Little Pony: Friendship is Magic, Season 3, Ep. 4: One Bad Apple
3. Arthur, Season 15, Ep. 8: Muffy's Classic Classy Club / Best Enemies
4. The Hunchback of Notre Dame
5. Super Why, Season 1, Ep. 61: The Ugly Duckling: Becoming a Swan
6. The Fox and the Hound
Do you have any tips for me to work on back talking and being kind? How have you taught your kids about kindness and acceptance?