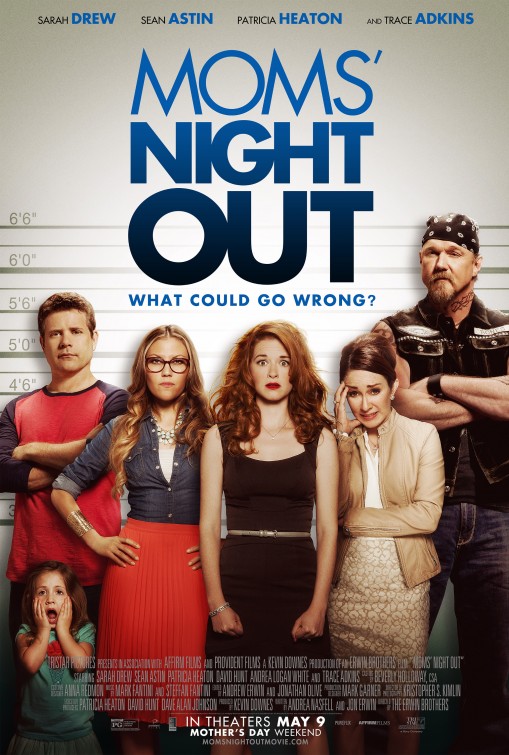 I finally did it, I got a Mom's Night Out on Saturday. I went out with a couple girlfriends to eat at Red Robin and then we saw Moms' Night Out. My first thoughts were "Yay! She's a blogger, too!" and "the way the video is shot is a little weird." I really got into the movie as it went on, though. I can totally picture myself in Allyson's life. I'm not a germ-a-phobe like she is, but kids getting into things, drawing on walls, making a mess in the kitchen; yes, that's my life.
One of the things I loved about this movie was that it is family friendly! I could actually sit down with my kids and not worry about seeing something inappropriate. Although, I don't want them to get any more ideas on how to misbehave. 😉 The movie follows Allyson as she gets up on Mother's Day to her kids making her breakfast, drawing her a masterpiece, and generally making a mess. Her husband is out of town, again, so she's on her own getting the kids ready and out to church. I've been in her shoes with my husband traveling for work a lot recently, and it's not always easy.
Her dream has always been to marry a nice man and raise a family; she's living it, but she's not happy. Have you ever felt that way? I know I have at times. When I get to that point, I know it's time to get a night out and recharge. With Baby Q's constant eating schedule (growth spurt?) lately, I've been dying for some time away with some girl friends. Allyson decided that she needed a Moms' Night Out and gets two girlfriends together to go do that. The movie then follows along as their night progresses and gets more and more crazy with every moment.
Overall I really enjoyed the movie. I did think some of the cinematography was a little weird, but I got passed it. I really thought the whole cast did a great job. One of my favorite characters was Bones played by Trace Adkins. If you've seen this movie, what do you think? Have you had a Moms' Night Out recently? It sure helped to get out for a few hours without any kids. I felt a little more myself on Sunday.
Note: I received an advanced screening copy in exchange for my review. All opinions are my own.