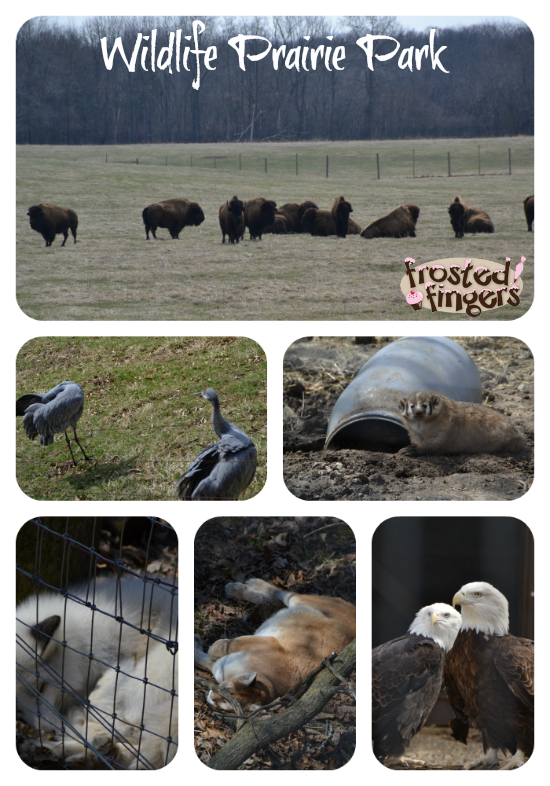 Over spring break we decided we wanted to do a short family vacation somewhere. We briefly talked about Wisconsin Dells, but the tourist season hasn't really started there so we figured there'd be nothing to do but water parks. I didn't really feel like hanging at a water park with a 2 month old. My husband said why not see if there is a cabin we can rent somewhere, so I started searching. I came across Wildlife Prairie Park in Peoria, IL and found that it was exactly what I needed.
Wildlife Prairie Park is often referred to as a jewel in the Midwest. Located just outside of Peoria, IL, this 2,000 acre zoological park is home to over 150 animals; that's 50 different species that are native to Illinois. Our guests come to learn about wolves, bison, waterfowl, black bears, elk, cougar, otter and much more.
The above picture is just a few of the animals that can be seen in the park. There are two trails that take you around to see the animals that they have that were orphaned or injured and that are native to IL. It takes approximately one hour to walk both trails. They have a brand new butterfly exhibit opening up this month. I wish it would have been open while we were there. We were able to walk in it, but it was still too cold for the butterflies. There is also an old school house and old log cabin that you can visit and learn some history about the area.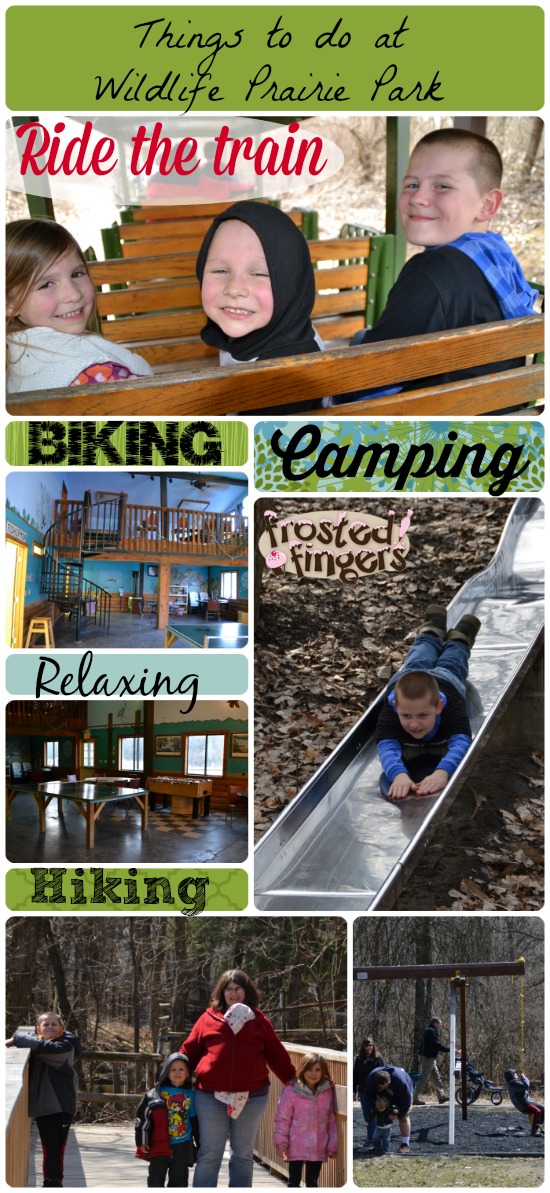 There is so much more you can do at Wildlife Prairie Park beyond looking at animals. There are playgrounds located all over the place as well as a 60′ slide for the kids to have a blast on. There is a train that you can ride (for an additional fee) which will show you around the park. There are educational classes that they have on site where you can learn about the animals. If you are staying on property there is also a recreation building which has ping pong, Foosball, a small area with some toys, and tables if you wanted to have a gathering.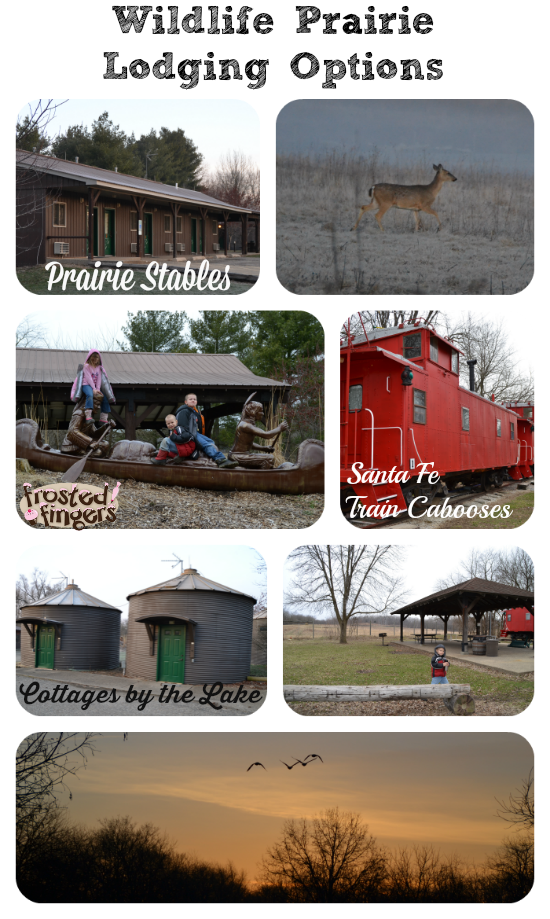 There are quite a few lodging options at Wildlife Prairie Park. There is The Cabin on the Hill (which we never saw because it wasn't by where we were staying), the Prairie Stables, Santa Fe Cabooses, the Cottages by the Lake, and you can also tent camp. I loved that the lodging was away from the main part of the park so it was peaceful and you could experience WILD wildlife around where you are staying.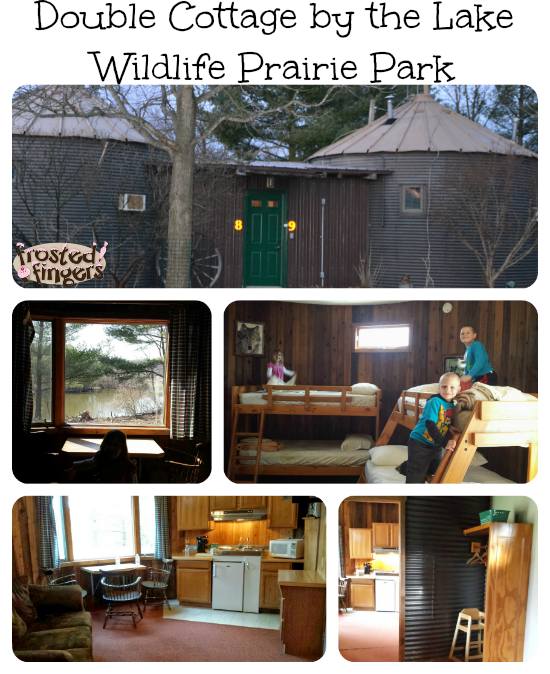 We stayed in the Double Cottage by the Lake on our stay. We were surprised by what our cottage looked like when we got there because I couldn't find pictures of the double cottage anywhere online. The double cottage can sleep up to 9 people. It has 3 sets of bunkbeds and a pull out couch in the living room. The kitchen has a small 2 burner cook top, microwave, mini fridge, coffee maker, and toaster. You will need to bring your own cooking supplies with you if you want to cook. There is also a small grill outside for you to cook on. We made pancakes and sausage one morning, had cereal the second morning, sandwiches for lunches the two days we were there, and grilled hot dogs one evening. The cottage does have air conditioning and heating so you won't be too cold or too hot! There is a stand up shower, sink, and toilet in the bathroom. The towels that were in our bathroom were SO soft. I wanted to take them home with me! I liked that where the two silos come together there is an area where you can hang coats and leave your shoes so that you don't have to have them in your main living areas.
We really loved our time at Wildlife Prairie Park and are looking forward to going back there again in the future. We're tying to talk the whole family into going for a weekend so we can have a nice quiet, unplugged family weekend.  General rates for the rooms are $70-$150 a night, so it's definitely affordable family fun!
If you plan on staying on property, your admission to the park is included. If you want to just visit for the day, here are the rates:
General/Summer Admission Prices (April 1st – October 31st)**
Seniors (65+) $7.00
Ages 13 & Up $8.00
Ages 3 – 12) $6.00
Ages 2 & Under FREE
WPP Members FREE