Note: I participated in a campaign on behalf of Mom Central Consulting (#MC) for Reebok. I received a product sample to facilitate my review and a promotional item as a thank you for participating.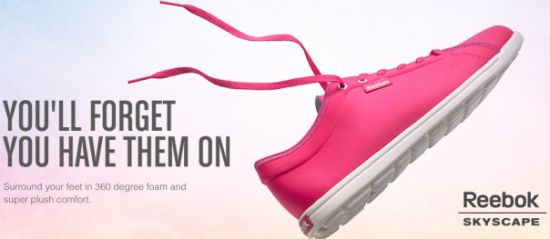 As a mom I am on my feet a lot: running errands, making dinner, cleaning the house, etc. When home I hate wearing shoes; my feet like to feel free. I picked up these Reebok Skyscape shoes from Kohl's and am in love! I put them on first thing in the morning and don't take them off until it's bed time. Normally the second I walk in the door I am kicking off whatever shoes I am wearing.
I love the fun colors that are available for the Reebok Skyscapes. My Kohl's only had black, so that's what I got because I didn't want to wait to have them shipped to me. (I'm an impatient shopper!) I really did want the pink ones, though! Just a quick FYI that these shoes tend to run a little big. I normally wear a size 9 and I got a size 8.5 in these and they fit just right.
The
Skyscape
is a fun lightweight shoe that goes with everything from jeans, to yoga pants, to a skirt. I normally just wear jeans, so they work for me all the time. 🙂
The Skyscape upper is crafted using the same manufacturing techniques and processes as
molded foam bras, but using materials that have been optimized for the stresses and strains
placed on the feet all day. The seamless, 2-way stretch material creates a soft, comfortable
envelope around the top and sides of the foot, while allowing for natural foot movement and
breathability. The sole of the shoe resembles cloud-like pillows, and provide cushioning, comfort
and flexibility for all-day comfort. The flirty lace-up silhouette comes in a broad range of colors to
match any outfit or mood.
Something I love about these shoes is that they are machine washable. As you can see from the above photo, I am very messy in the kitchen. (Little Man wanted his foot in the picture, too.) I also had an incident where I was at the soccer fields on Saturday for my daughter's game and came out of the bathroom and stepped in a big pile of dog stuff. It was on concrete, but when you're walking out the door, pushing a stroller, and talking to your 5 year old, you may not notice it there. Clean up after your dogs people! I got the majority of it off by scraping my shoes in the grass, but then I threw my shoes in the wash.
My shoes came out clean and as comfortable as day 1!
Reebok Skyscapes
are on sale at
Kohl's
right now for $58.99. That's a little more than I would normally pay for a casual, run errands shoe, but having worn them for over a week, I'm sold and would buy these again in a heartbeat. They are comfortable, lightweight, and washable. They win for me!