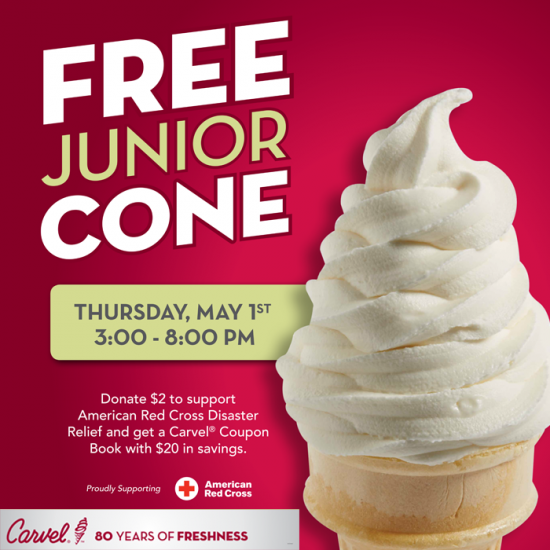 I wish there was a Carvel close by to me so I could take advantage of this with my kids!
Did you know Carvel … America's Freshest Ice Cream® has been a part of your community since 1934  Tom Carvel was a pioneer in the world of soft serve and it all started with a flat tire!
Carvel is getting ready to kick off its summer-long 80th anniversary celebration with Free Cone Day tomorrow, May 1 from 3-8 p.m.  You and your readers can visit participating Carvel shoppes and will be treated to a free junior cone filled with your choice of freshly made vanilla, chocolate or the all-new salted caramel soft-serve ice cream.
In addition to enjoying free ice cream, you will have the opportunity to support a good cause. Throughout the day, Carvel will offer a $2 coupon book worth more than $20 in savings. Carvel will donate 100% of all proceeds from coupon book to the American Red Cross® to support Disaster Relief with a maximum donation of $30,000.  This effort will raise the company's total contributions to the American Red Cross to $80,000.
Now is a great time to join Fudgie Fanatics! Guests that join between May 1 and July 20thwill be entered for a chance to win free ice cream for a year!  Also when you join Fudgie Fanatics you will receive a free treat on your birthday and the inside scoop on Carvel promotions.