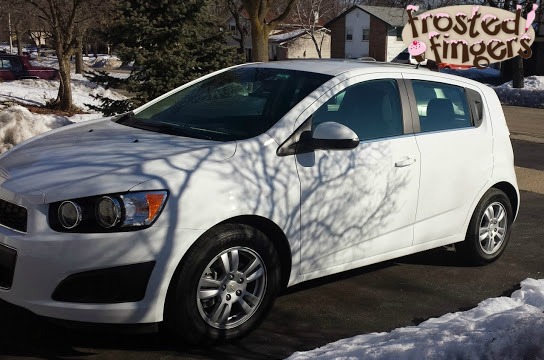 We were given the chance to try out the new Chevy Sonic since my husband is in the market for a new car for him. I never got a chance to drive it while it was here, so all opinions are his. I did get to ride in the car once when we took a date to Houlihan's for dinner. The ride wasn't bad. The seats felt a little small to my post pregnant butt. 🙂 I got to play around with the radio because whenever I'm in the car I control the radio. My husband is probably sick of my music but he's learned to deal with my radio control issues a long time ago. I wasn't fond of the complete touch screen. I found it a little hard to navigate and you want things EASY to navigate in a car. I was also surprised that the car didn't come with a GPS in it. I thought that was just normal in cars now. I'm never fond of how in car GPS's work, but I could have used one on our date to get us where we needed to go.
The interior picture is not mine. I wish! Look at that view. Because I only rode in the car once and it was at night I didn't get any pictures besides that first picture of it outside. Here are my husband's thoughts after driving the Chevy Sonic for close to one week (he went out of town while it was here.)
Likes:
Small feel but roomy inside
Easy control in heavy snow
Media controls were easily accessible and naturally placed on steering wheel
Vehicle heats up pretty quickly which is nice in the extreme cold temperatures we have had in Chicago
Simplicity of controls
Price and value a good match
Got about 30 miles to the gallon
Dislikes:
Trans shifts a little harder than I am comfortable with (other manufacturers have smoother)
Touch panel not completely intuitive (had a hard time adding my phone to Bluetooth initially)
Couldn't find audio adjustment controls for EQ (I don't think they had these)
Didn't like the fact that there wasn't a temperature gauge.
Not sure if I like the digital speedometer.
Observations:
When in Neutral there is a governor on the throttle that will not allow it to go over 4k RPMs
Concerns about the reliance on the safety alarms (back up cam, over the line sensor, approaching a vehicle or object to quickly – concerned that people, mainly teens will rely on the alarms rather than developing their skills and instincts for driving.
The Chevy Sonic starts at $17,665; the car we had was priced at $19,985. The fuel economy for the car is 31 MPG combined; 27 city and 37 highway. It comes in either hatchback or sedan version. Visit Chevy.com for more information.