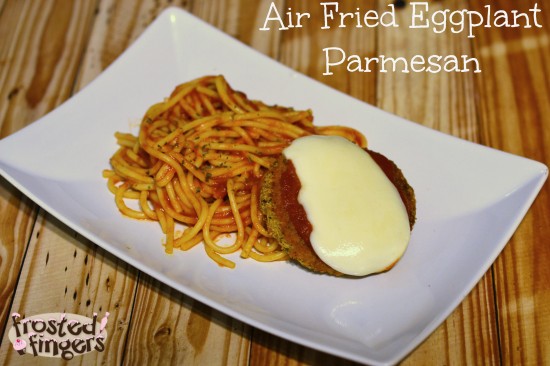 A few weeks ago I shared with you that I got a Philip's Airfryer to try out. I have another post coming up in the beginning of April for some Eggplant Parmesan with a twist. While pulling together that recipe I decided to see how the Eggplant Parmesan would turn out in the airfryer. One thing I definitely liked about it was that I wasn't dealing with splattering oil, especially while wearing a baby in a carrier!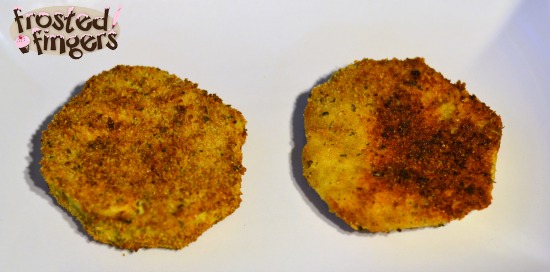 In the picture on the left is the air fried eggplant parmesan and on the right is the fried in oil type. Look how much prettier and even the air fried parm is!
Air Fried Eggplant Parmesan Recipe
Ingredients
1

medium eggplant

1

tsp.

salt

½

cup

all-purpose flour

2

eggs

beaten

1

cup

Italian-style breadcrumbs

¼

cup

Olive Oil

1

lb.

fresh mozzarella cheese

sliced into rounds

1

jar spaghetti sauce
Instructions
Peel and slice the eggplant into ½" slices. Place the eggplant rounds in a colander and toss them with 1 teaspoon of salt. Let them drain in the colander over a bowl in the sink for 45 minutes to remove excess moisture.

Mix breadcrumbs and olive oil together.

Bread the eggplant rounds in batches by coating them in the flour, then the eggs and then the breadcrumbs.

Set your Airfryer to 390 F. Place 4-5 slices of breaded eggplant into the fryer and set the fryer to cook for 8 minutes. (11 minutes for the first batch so that the fryer can warm up.)

While your eggplant is frying, boil spaghetti in a pot of water. When ready, drain and toss with spaghetti sauce.

Transfer "fried" eggplant to a cookie sheet lined with parchment paper and top with one tablespoon of spaghetti sauce and one slice of mozzarella cheese.

Turn your broiler to high and carefully slide the cookie sheet under the broiler just long enough until the cheese melts. Immediately serve with spaghetti.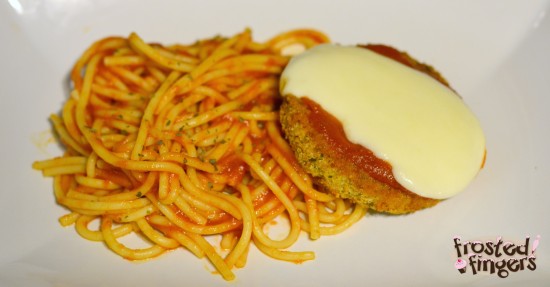 I will gradually be adding more recipes using the Philip's Airfryer. I definitely still want to do fried pickles! You can also check out my Air fried BBQ Chicken Legs.