This is a guest post brought to you by Monique Burkes:

Monique Burkes is a freelance writer, marketer, eBook author. She is a professional content creator of articles, blog posts, and eBooks.  She writes product reviews at Arms of a Sister, features giveaways at OhMyGiveaways! and writes custom content at MoniqueInk.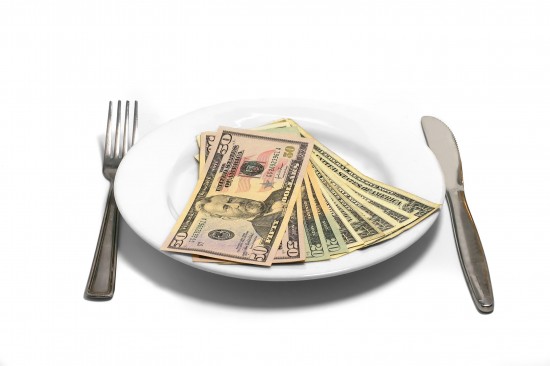 So you've been trying to eat healthier for a while. You want to save money at the same time. You see or read about others doing it. And they make it look so easy. But for some reason, you just can't seem to do both – save money AND eat healthier. Food is one of our largest budget categories, and it's no wonder that people are trying to reduce their food costs. I'm going to arm you with the same smart shopping techniques that those people who make it seem so easy use. Give these tips a try and see if they don't work for you as well as they work for those money-saving experts.
Tip 1: Start with a budget. In order to know what you can afford to spend on groceries over the course of a month, you'll have to figure out your monthly budget, and divide it by the number of times you shop. Then, make sure you don't go over your budget. If you have money left over after a grocery store visit, save it for the next visit.
Tip 2: Never shop without a grocery list. Shopping this way usually causes you to overspend and, subsequently, bust your budget. But with a well-planned grocery list you'll only buy what you need.
WARNING: Shopping without a grocery list is just as bad an idea as eating without a meal plan. Grocery lists and meal plans are both tools to save you time and money in the grocery store and the kitchen. A grocery list allows you to purchase only the items your family needs over the next several days or week, and it also means that you avoid buying that third bag of sugar or the fourth jar of ginger. By planning your meals for the next several days in advance, you avoid the standard "What's for dinner tonight?" – 30 minutes before the meal should be on the table.
Tip 3: Avoid pre-cut fruits and vegetables, pre-packaged meals, and individual serving packs. While they can save you time in the kitchen, the amount of time they save is negligible, and they cost you more money than purchasing in bulk. It's just as easy to cut your own fruits and vegetables and spoon out individual portions of yogurt, rice, and hot cereal in two or three extra minutes. That pre-packaged meal goes into a pan or the microwave quickly, but you pay a lot for the convenience.
Tip 4: Be sure to compare unit prices. Comparing unit prices for similar products means you can compare the per pound or per ounce prices in order to save money. Saving your brain power is a side benefit as well.
Bonus Tip: Just because an item is on sale doesn't mean that it offers the best value for your money. When your goal is to stretch your money as far as it will go, use smart tools like the unit prices to help you do so.
Tip 5: Don't buy pre-packaged convenience foods. A budget-friendly option is to prepare more nutritious lunches and dinner recipes by searching online for easy recipes. When you're on a tight budget, you'll have to spend more time cooking from scratch in exchange for saving money at the grocery store.
Tip 6: Do buy only the amount of fresh fruits, vegetables, and bread that you can eat before they go bad, and buy them in season for the best prices. If you expect them to go bad before you can use them, see what you can freeze or dehydrate, and be more diligent the next time you visit the grocery store. Otherwise, buy them in small enough quantities that you won't have to throw them away or buy before they're ripened.
NOTE: When your favorite fruits and vegetables are not in season, try frozen and canned instead, and buy those in bulk when they're on sale. Use any overripe fruit in your favorite smoothie or baking recipes.
Tip 7: Give generics a try. The quality of generic and store brand foods save you money because you don't pay more for advertising and packaging. As a bonus, the taste and quality are similar to what you expect from brand new products.
Tip 8: Shop from your pantry. And your refrigerator, and your freezer. If you start preparing meals from the foods you already have, including leftovers, you'll instantly save money. Depending upon the amount of food you have in your cupboards, you could easily save $15 to $50 immediately.
Tip 9: When you just don't feel like cooking, or you have a reason to celebrate, you can save money on eating out at restaurants. Lunch is usually less expensive than dinner since the portions are smaller. Certain restaurants place coupons in the Sunday paper which is another way to save a few dollars. You can also save by only eating out on "deal days". For example, we have a favorite restaurant where kids eat free on Wednesdays. Both of my children eat free with the purchase of 1 adult meal, so it ends up being less expensive than buying 3 meals at a fast food restaurant!
BONUS TIP: Agreeing to drink only water at the restaurant, instead of expensive soft drinks, is an especially easy way to save money when eating out.
Tip 10: Buy in bulk. Buy large sizes and repackage them into smaller portions as soon as you get home. Actually, eating healthy on a budget is pretty simple when you apply the above 10 tips. You don't have to implement them all at once. Start with one or two new things you can commit to do to save your family money.
BONUS Tip 11: Avoid the extras – the $4 or $5 coffees, the $10 lunches out of the office with your co-workers, and your bottled water obsession. Just like the other 10 tips, there's no requirement to implement them all at once. Start by removing one unnecessary extra, and then remove another a few weeks later. Even if you start slowly, you can save an extra $10 or $20 your very first week!
So, get to it – your whole family will be glad you did.