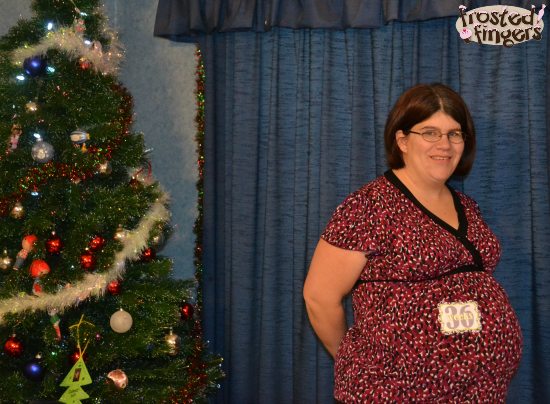 36 weeks! We are getting down to the end. Finally! I haven't updated since 32 weeks but it feels like it's been a lot longer. I can't believe I made it through hosting Christmas dinner for near 30 people at my house. It was an extremely long day on my feet but it turned out well and I was glad I did. I made a turkey with stuffing, crab dip, cranberry chutney, fruit tray with dip, veggie appetizer pizza, baked brie, sweet potato casserole, green bean casserole, broccoli/cauliflower casserole, deviled eggs, cranberry sauce, cranberry cake, and caramel topped cheesecake. Wow, I'm tired just writing that list! The kids had an excellent day; they got everything the asked for. (The biggest regret of a Christmas present was a Furby Boom, OMG so annoying!)
The past week since Christmas I've spent trying to recuperate and just get ready for baby to come. I got all the diapers washed, snapped down to small size and stuffed. All her clothes are washed and put away. I'm thinking I'll be started to pack my bag today. I have only 23 days to go! I'm pretty sure baby girl finally moved to head down. The kicks are more centralized now and she spent hours the other night beating up my right side as she turned. It hurt so bad and I was crying on and off for those hours.
I have almost everything I need now, I think. It's been 5 years since I had a baby so I can't even think of what I could be missing. I know I could still use some receiving blankets but am not sure what else I may need. What are your must have items for a newborn?