I participated in a campaign for Mom Central Consulting (#MC) on behalf of Konica Minolta. I received a promotional item as a thank you for participating.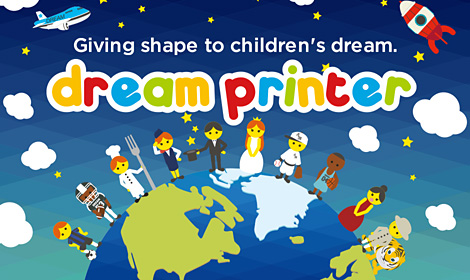 Our kids grow up WAY too fast and it seems that in today's time they grow up even faster. In our family we like to do things with the kids to help them cultivate their dreams and do things to stay innocent as long as possible. I remember when Monkey got done with Preschool two years ago, her dream was to become a Princess Cowgirl. Little Man says he's going to have a family and live with us… hahaha. That's funny! I think he still just doesn't want to leave my side. I'm not sure about Buddy. He says he wants to be a baseball player. He's really good with money, so hopefully he does something as a backup that deals with that as well.
Konica Minolta, an industry leader in Business Technologies, especially Production Printing, wants to celebrate extending children's imaginations and encouraging big dreaming with the "Giving Shape to Ideas" initiative. As part of this initiative, they set up a "Dream Printer" in a park in New York where kids could walk up to it and share their dreams and it would print a picture of them doing their dream.

My kids would have LOVED that printer! What are your kid's dreams? Please share the above video to help inspire other people to encourage their kid's dreams!