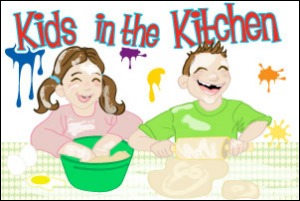 This week we were sent The Piccolo Chef Cookbook to check out and try a recipe from together. All opinions in this post are my own. The Piccolo Chef is a cookbook for Healthy Cooking With Your Kids by Tina Fanelli Mraccini & Lilian Palmieri. I like that there is a picture with every recipe. I hate looking at a cookbook and not having a clue how the food is supposed to look when done. I'm a very visual person, in fact, it's very hard for me to even write a post unless all of my pictures are taken and edited first.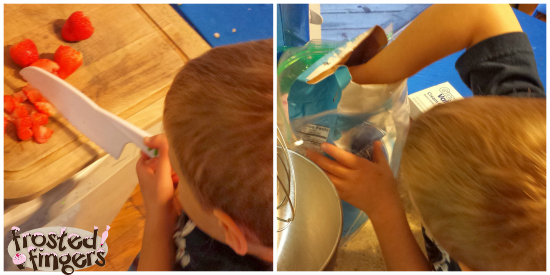 Little Man and I went with one of the easier recipes to make, because spending a lot of time in the kitchen on one recipe is not something I want to be doing at this point in time. I gave Little Man the kid friendly knife and let him go to town on the strawberries himself. He was so proud that he couldn't wait to tell his brother and sister when they got home from school that he did it all by himself. He also measured the sugar out by himself. I wasn't quite ready to let him mess with eggs yet, so I did the yolks myself. Although, he may have had a better outcome since I cracked an entire egg straight into the garbage. Sigh! Overall the recipe was easy to make. I did notice that an ingredient was left out of the Ingredients list, so I put in what I thought was needed. This recipe is made to be split into 4 ramekins, but I wanted to go for a large dessert and put it all in one bowl. Unfortunately, it really needed about double the strawberry juice and mascarpone mixture to make it look presentable in a large bowl.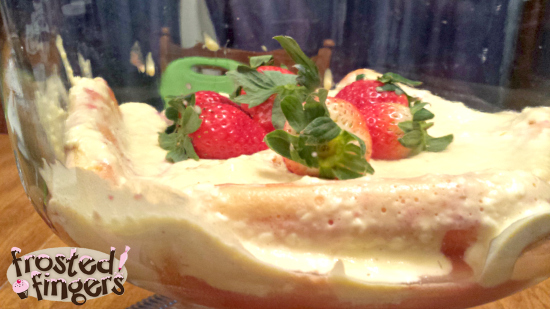 Berry-Fun Tiramisu Recipe
Ingredients
3

egg yolks

3

tablespoons

granulated sugar

8

ounces

mascarpone cheese

softened

1

teaspoon

vanilla

1

cup

strawberries

diced, plus 2 tablespoons for garnish

Splash of orange juice

16

ladyfingers

cut in half

OPTIONAL: chocolate shavings
Instructions
In a mixing bowl, using an electric mixer, beat egg yolks and sugar until thick and pale, about 5 minutes. Add mascarpone and vanilla and beat until smooth, an additional 3 minutes. Set aside.

In a food processor, blend strawberries and juice until a thick liquid forms.

Place four ladyfingers in the bottom of 4 8-ounce ramekins, breaking them in half in necessary in order to fit the bottom. Pour strawberry juice until all biscuits are covered.

Evenly spread mascarpone mixture over ladyfingers.

Cover each tiramisu with plastic wrap and refrigerate for at least 2 hours, up to 8 hours.

Top each with strawberries and chocolate shavings, if desired. Serve.
The recipe to me tasted like strawberry shortcake. My husband liked it. Unfortunately the kids haven't even had a chance to try it yet because they got in trouble last night and couldn't have dessert. There are a few things I would change about the cookbook, but that's just because I'm really picky. For example, the ingredients list, in the book, is not in order as to how you will use them in the recipe AND vanilla was left out of the ingredients list for this recipe, yet it was in the preparation directions. I just like when the list is in order so I can go down the list as I cook instead of having to bounce around from item to item. My picture is pretty poor because I had to take it with my cell phone (my beautiful camera was dropped by one of my kids 10 minutes before I was ready to take a picture and it broke), but I think some of the pictures in the book could have been photographed a little better. The one for this recipe is very dark and shadowy and the first picture in the front of the book looks like it was blown up bigger than it should have been because it was pixelated. (Just not a good first impression.) Don't get me wrong, not all the pictures are not up to par, 99% of them are great.
Purchase The Piccolo Chef Cookbook: Healthy Cooking with Your Kids
on Amazon. Don't forget to check out the other recipes that were shared from the book in the linky below and find out their thoughts on the cookbook.
Come join me and my co-hosts, Melinda at Look What Mom Found, Sara at Sensibly Sara, Lisa of HooplaPaloooza and Sarah of Play2LearnWithSarah, each week by linking up a post, new or old, that features the theme Kids in the Kitchen. It doesn't matter what you are doing as long as you are doing it together, enjoying it and learning something along the way.
preparing healthy snacks
counting skills with m&ms
pouring from measuring cups
discovering a local restaurant that your kids love
creating new family friendly recipes
Don't have a blog? That's ok! Just share an Instagram photo or Facebook update.