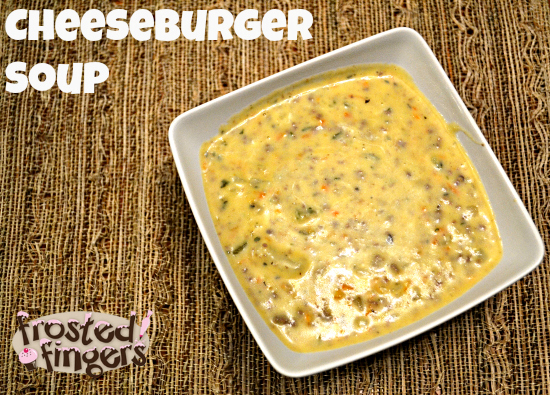 It's almost winter here in Chicago and it's cold already. One of the things I've been wanting is warm, yummy soups. When I found this recipe, I had to give it a try. The pictures aren't the greatest, because along with winter comes the dark much, much earlier and this was taken inside. Sorry! I've only had Cheeseburger Soup once at a restaurant and didn't like it because it just tasted like watery Hamburger Helper to me. Everyone in my family ate this up and didn't complain! I love that it had chunks of potatoes in it and was basically just a potato soup with a hint of cheese and hamburger flavor to it.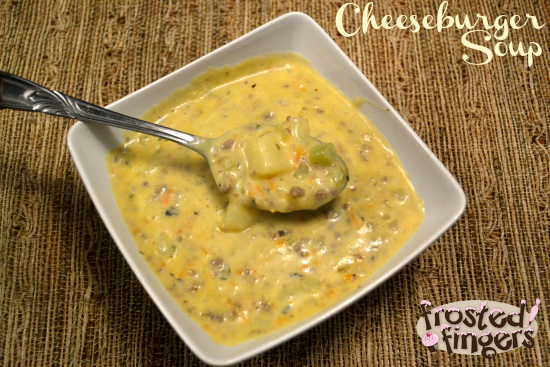 Cheeseburger Soup Recipe
Ingredients
1

pound

ground beef

3/4

cup

chopped onion

3/4

cup

shredded carrots

3/4

cup

diced celery

1

teaspoon

dried basil

1

teaspoon

dried parsley flakes

4

tablespoons

butter

divided

3

cups

chicken broth

4

cups

diced

peeled potatoes

1/4

cup

all-purpose flour

2

cups

8 ounces processed cheese (Velveeta), cubed

1-1/2

cups

milk

3/4

teaspoon

salt

1/4

teaspoon

pepper

1/4

cup

sour cream
Instructions
In a dutch oven or pot, brown beef; drain and set aside. In the same dutch oven, saute the onion, carrots, celery, basil and parsley in 1 tablespoon butter until vegetables are tender, about 10 minutes. Add the broth, potatoes and beef; bring to a boil. Reduce heat; cover and simmer for 10-12 minutes or until potatoes are tender.

Meanwhile, in a small skillet, melt remaining butter. Add flour; cook and stir for 3-5 minutes or until bubbly. Add to soup; bring to a boil. Cook and stir for 2 minutes. Reduce heat to low. Stir in the cheese, milk, salt and pepper; cook and stir until cheese melts.

Remove from the heat; blend in sour cream.