Note: I received a Tubby Table for review. All opinions are my own.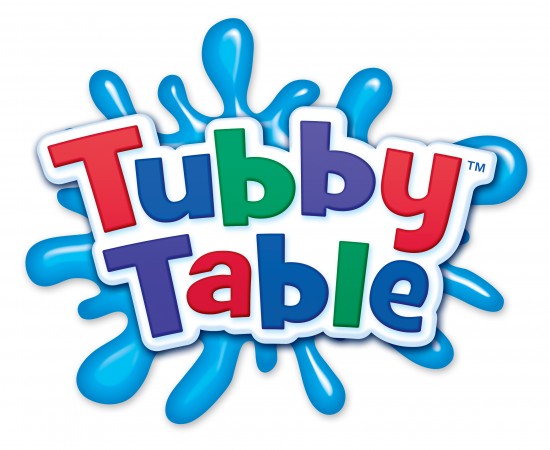 My kids all still love baths, although we do make Buddy take showers almost all the time now. We've even started the other two on showers, but they refuse to conform! They've been taking baths together for so long, that I think they just want that play time with water. Monkey is like  a mermaid, she would play with water all day long if I let her. One of her favorite activities is to play with her tea set and to pour water from the pot to the cups over and over again. When I got the chance to be one of the first people to check out Tubby Table, I was excited for my kids!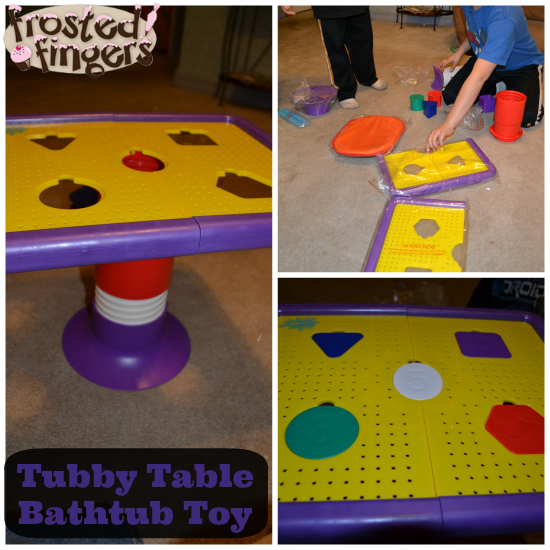 Putting the table together takes less than 5 minutes. Buddy has my personality when it comes to building, he wants to do it himself, so we were fighting over who would put the table together! 🙂 It basically just takes sliding two pieces in between the two halves of the table, sliding the table together, and then screwing on the base which takes 6 screws and then you're ready to play with water!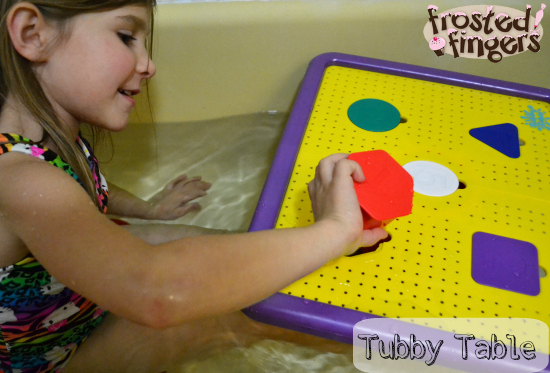 You can see how absolutely happy she is to just be pouring water. (No, my kids don't wear swimsuits for baths, but I wasn't going to put naked pics up on my site.) Buddy was so excited about the table that he begged to take a bath after they were done so he could play with it, too. Keep in mind, he's 8!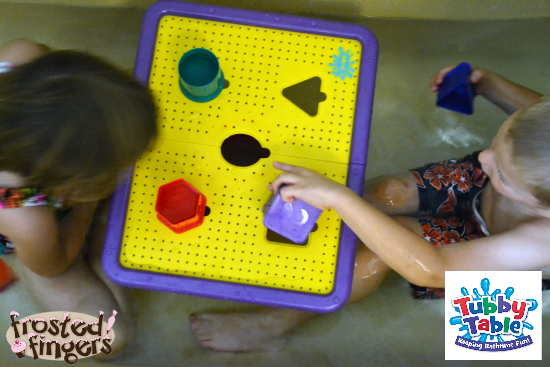 The two of them played well together with the Tubby Table and would have played until the water became ice cold, if I would have let them! The base of the table has a giant suction cup so that it will stick to your tub and not fall over on the kids. It was easy to remove, though, with the tab that releases the suction. It comes with 5 cups that fit into the table that they can take out and fill with water to play with. It also comes with a kneeler mat so the kids can kneel in the tub without hurting their knees. (I need one of those for washing the kids!) Monkey took that over as her bathtub pillow; such a diva already! I do love that the edges are all soft, so there's no getting hurt on those.
My only complaint about the table is the storage aspect, because it doesn't become much smaller than what it is, so there's not a good place to put it. We currently share one bathroom and my husband will get tired of taking it out of the tub every morning for his shower. (Wait, maybe that's a good thing and will make him get our master bath done sooner. Well played Tubby Table!) 🙂
You can purchase a Tubby Table on their website right now and get $5 off of your preorder which makes it $34.99. For more information, you can follow their other social channels: Twitter, Facebook, and YouTube. You can win a Tubby Table below, which will make an awesome Christmas present for your little one, just fill out the Rafflecopter form.
Giveaway is open to the continental USA, must be 18 or older to win, and ends on November 21 at 12:00 am EST. Winner will be selected at random from all eligible entries and will be contacted by email. Winner will have 24 hrs to respond. Winner may only win one prize pack, if you win on another site, a new winner will be drawn. Please add paula@frostedfingers.com to your trusted email filter. If original winner does not claim their prize within 24 hrs, it is forfeit and a new winner will be selected promptly.
No purchase necessary to enter or win. Odds of winning are not increased by a purchase.