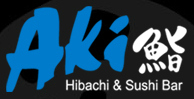 My friend and I bought a deal for a Murder Mystery Show and set it up so we could double date last Friday. A few hours before we were to leave to go downtown, we found out that the Show was closed. (Glad we found out BEFORE heading downtown.) Next came the decision making for what we were going to do on our date. I said our standby date is to go to Carrabba's and Menards. (Exciting, right?!) She said their's is to go to Red Lobster and Best Buy. At least we aren't the only people that go shopping when kid free! We wanted to try something that wasn't the standard. Rachael mentioned that we should try Aki. I had no idea what she was talking about until she told us where it was. I pass that restaurant AT LEAST twice a week and it always seems to do no business. I said sure, let's give it a try.
I'm not sure why they don't seem busy, but we'll be going back to Aki in the future. Charlie told the kids about it and Buddy can't wait to go try it out. Aki is a Hibachi and Sushi Bar. The last time I went to a Hibachi bar where you sit around the grill was Benihana when I was in High School. We went for homecoming and I was sick and I was WAY too picky about my food at that point in my life. I think I picked at the chicken on my plate and wouldn't try anything else.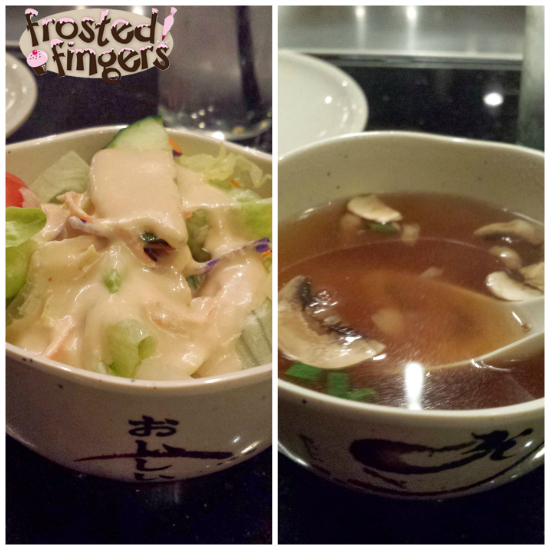 At Aki, if you're going with Hibachi, which is what we all got at our table, you choose what you want your entree to be. They have steak, shrimp, vegetables, calamari, lobster tail, and more. I went with the Filet Mignon and Chicken Combo. It was $25.95 for that combo. It includes a salad, soup, and white rice. I upgraded to fried rice for an additional charge. I really liked the salad; it had some kind of a creamy ginger dressing on it. The soup didn't stand a chance, though. I told myself I'd try it even though it had mushrooms in it. As soon as my husband went to take the first spoonful, he told me it smelled like the elephant house at the zoo and then he tasted it and said it tasted just like it smelled. I did take a couple spoonfuls, but yes, it did smell like the elephant house and I couldn't get past it. It'll forever be known to us as Elephant Soup.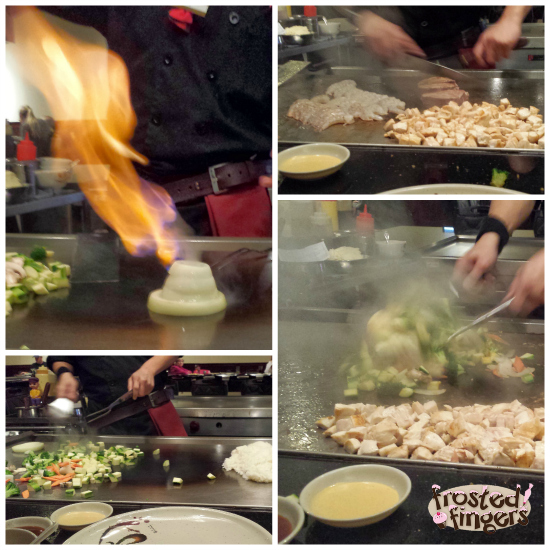 As you finish up your soup and salads, the chef comes out and starts preparing your food. It is very entertaining and fun to just relax and watch someone else cook for once! He does a lot of cool tricks like flipping broccoli into your mouth, if you're brave enough to try it. I think it took Charlie 4 or 5 times to get a piece of vegetable in his mouth! He also started an onion volcano, which you can see in the picture above.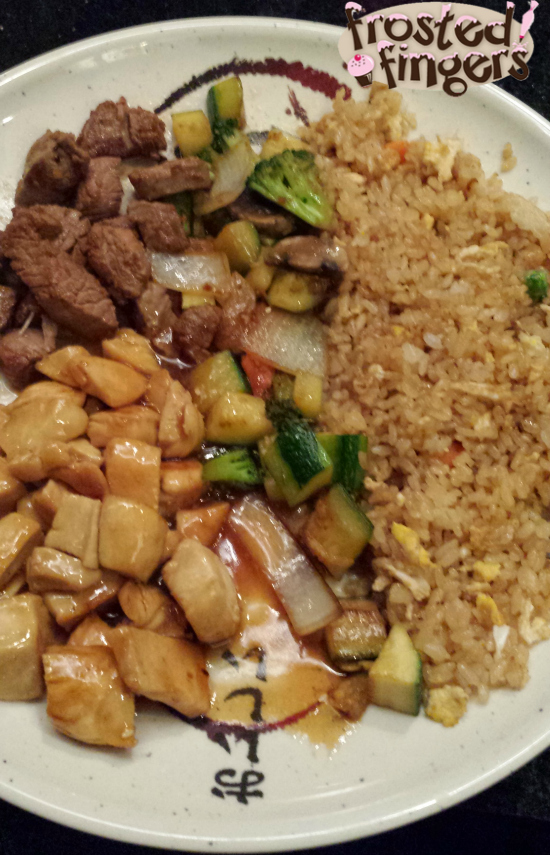 The cooking presentation only takes about 10 minutes or so and then it's time to dig in. Your plate doesn't come all at once. As he finishes something, he passes it out to your table. I just did minimum picking at the food until all was plated so I could give you a nice view of what I got. My plate was almost empty by the end of the night. If you order soft drinks, you'll be getting out of the restaurant paying around $70, for two, which isn't bad for really good food and some entertainment. They do have kids' options which range from $10-$15. My friend says she orders one for her two kids to split when they go. If you're in the Bolingbrook area, I definitely recommend giving Aki a try!
Note: This is a personal review. I received nothing in exchange for it. All opinions are my own.