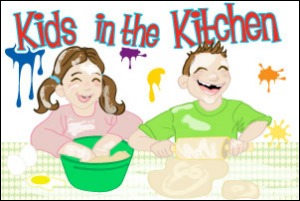 This past week was a whirlwind! I can't believe it's Friday already. We kept very busy over the long weekend, including cleaning out the boys' room and hitting Six Flags for a few hours on Monday since there was no school. After that it was Cub Scouts Tues, Wed night off and then Girl Scouts last night. Just all around busy! I didn't exactly get the kids into the kitchen to help this week, but one night while making the bubble up pepperoni pizza I called Monkey in to do some math. I remembered that in her homework she was working on pie fractions and since I had to cut circles into eighths, I called her in to reinforce what she had learned. I'd have her tell me what a half, quarter and even an eighth was, even though they have only gone up to quarters. She was excited to use something she learned in school in real life. (Aren't we all! That doesn't seem to happen often.)
Did you have fun in the "kitchen" this week? Did you try a new food or a new kid friendly restaurant? Did your little ones use their snacks to count to 10? We invite you to share your experiences, photos, stories or recipes that include your #kidsinthekitchen!
Come join me and my co-hosts, Melinda at Look What Mom Found, Sara at Sensibly Sara, Lisa of HooplaPaloooza and Sarah of Play2LearnWithSarah, each week by linking up a post, new or old, that features the theme Kids in the Kitchen. It doesn't matter what you are doing as long as you are doing it together, enjoying it and learning something along the way.
preparing healthy snacks
counting skills with m&ms
pouring from measuring cups
discovering a local restaurant that your kids love
creating new family friendly recipes
Don't have a blog? That's ok! Just share an Instagram photo or Facebook update.