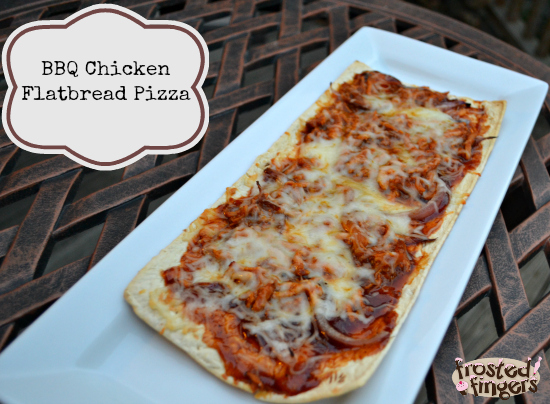 Remember last week I shared with you how to make some Shredded BBQ Chicken in the Slow Cooker? If not, take a minute and go check it out, this post will still be here. My kids devoured that chicken! I decided I wanted to do something else with that recipe since I had so many leftovers. Even after this pizza recipe, I stored a whole quart size bag in the freezer. (I'm starting to stock up for when baby comes!)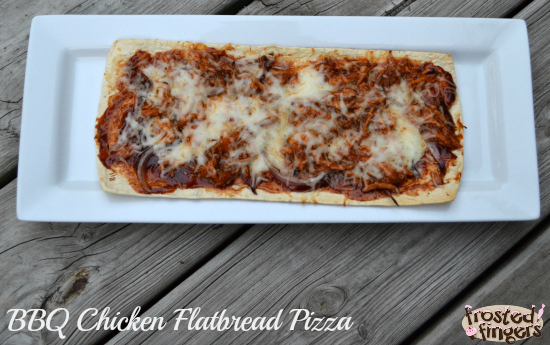 I was recently sent some flatbreads from Flatout because I had taken their trolley tour while at BlogHer13. I wasn't asked to create this post, but figured I'd make something with them since I really like their product. If you want to see a quick video clip of our fun tour, check it out at the bottom of this post. We had a blast with some imrov guys and Flatout breads.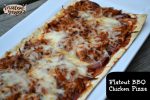 Flatout BBQ Chicken Flatbread Pizza
Ingredients
4

tablespoons

butter

1/2

red onion

sliced

Flatout Thin Crust Flatbreads or Flatout of your choice

I used Rustic White

Olive Oil

1

cup

Shredded BBQ Chicken

1

bottle favorite BBQ sauce

I used Sweet Baby Ray's

Shredded Mozzarella Cheese
Instructions
Preheat oven to 350.

In a pan, melt butter and add onion slices. Saute until soft.

Spray or spread a small amount of olive oil over the top of your flatbread. It doesn't need to be wet, just a little coat.

Spread BBQ sauce over the olive oil on the flatbread.

Add sauted onions to the flatbread and the BBQ chicken.

Top with mozzarella cheese.

Bake in oven, directly on rack, for 8 minutes, or until cheese is melted and bread is crispy.

Enjoy!
I was afraid the younger two kids wouldn't like the pizza, so I just made them a cheese pizza on the Flatout breads with pizza sauce and mozzarella. My eldest had 1 full cheese pizza and a half of the BBQ Chicken Flatbread Pizza. He actually loved the BBQ chicken pizza. He said it was a bit spicy for him, but he loved it and drank a lot of milk while eating it. I LOVED this recipe and had it again for lunch the next day. My husband said it was good. He's not a big shredded chicken fan in any form, so it's hard to get him to like anything like this. He ate it without complaining, it's just not his favorite because of the shredded chicken. I will definitely make this recipe again, though!
Note: I was sent product from Flatout Bread but was not asked to post about it. All opinions are my own.