Note: We were provided Media Passes in order to see the show. All opinions are my own.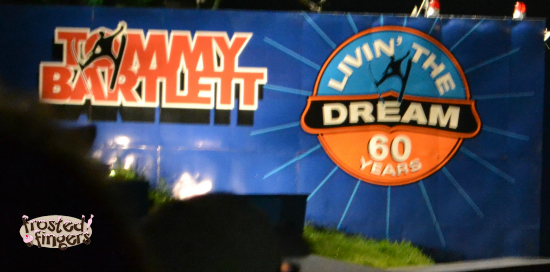 On Thursday, my family all got to go see the Tommy Bartlett Show in Wisconsin Dells, WI. It's a family tradition in my husband's family to go see the show, but we've been so busy every time we come up that I don't think I've seen the show in close to ten years. The Tommy Bartlett show is fun for the entire family. It starts off with a water show that has water skiing, boats, and a few surprises!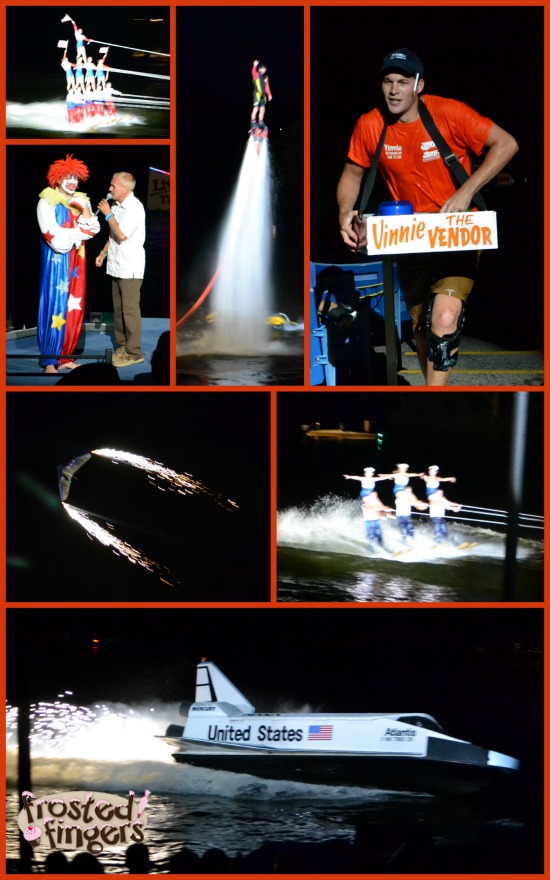 As soon as that space shuttle came out, Little Man yells "I want to go on one of those some day." I didn't want to break his heart that they don't have that program anymore so I just hugged him. The kids absolutely loved the ski show. It was so much fun to see the show from the right side of the lake for once. My inlaws always stay on the other side of the lake where we can see the show, but from far away. The sportsmanship of the skiers is amazing. I've never attempted to water ski, but I've heard it's not easy. These athletes make it look so easy!
They sell popcorn, nachos, cotton candy, and drinks during the show. They do about a 20 minute intermission in the middle of the show to set up for the stage part of the show.
The second half of the show starts out with a woman that can hula hoop to the max! I can't even do one hula hoop at a time and this crazy lady had like 20 hula hoops going at once! The next act was T.J. Howell, who is a juggler. He and his amazing 12 yr old son came out on stage and rode unicycles, juggled and made the audience laugh like crazy.
The next act, which is never my favorite, because I'm not a huge dare devil watcher, was the Nervless Nocks Globe of Thunder. They have two motorcycle drivers that go into the Globe of Thunder and ride it in at the same time. At this point in the show, unfortunately, two of our kids fell asleep and didn't see the rest of the show. (An 8:30pm start time is late for Little Man since he goes to bed at 8pm every night.) I still suggest seeing the night show, though!
The last act, my husband and Father-in-law went nuts about: Dieter Tasso! Four generations of my husband's family have watched him perform. He was SO funny! His motto is "You Like? I do it again!" We are still in the Dells and may sneak back in to get a shirt from him before we leave. He does some juggling, but his act is mostly just slapstick comedy. The crowd really went wild with him. The man in front of us was hilarious to watch while Dieter was on.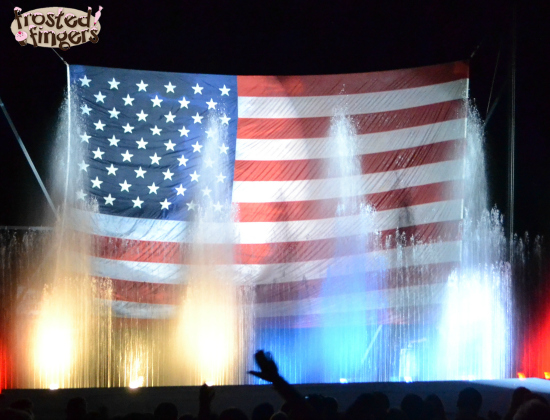 For a finale, they have dancing waters and do a salute to America's troops, because without them we would not be free to be "Livin' the Dream." I overheard a young girl (around 12?) walking out and said that she was crying during the last song. I was almost crying, but it really touched my heart to hear a child get moved by the song "Proud to be an American."
My family absolutely loved the Tommy Bartlett show and they've been begging the past two days to go back and see the show. Last night we were eating dinner across the lake from the show while the 4:30 show was going on and Buddy umped up and was telling his cousins what was about to come up next. He LOVED the show. You should have seen him laughing during Dieter Tasso. (Keep in mind, he's only 8, and he really enjoyed it, so it is fun for the WHOLE family!)
Connect with Tommy Bartlett on their website, Twitter, and Facebook. The show will go, rain or shine (their are covered seats in the stadium.) They have a show at 4:30 and 8:30 pm every day from Memorial Day to Labor Day. Dieter Tasso and the dancing waters are only at the 8:30 pm show, so if you want to catch that, make sure you go to the later show! Admission for an adult runs from $21-$24. Children 6-11 are $11-$14, 5 and under are free if sitting on a lap. You can also receive 20% off your admission if you purchase tickets to the Exploratory as well. (Review to come, we're going to that some time this coming week.)