Note: I received a Joovy BicycooBMX Balance Bike for review. All opinions are my own.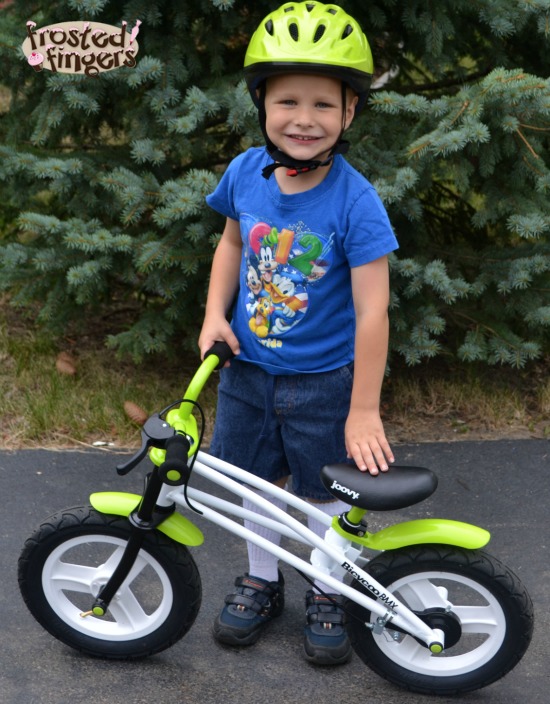 When I came home from my conference I surprised Little Man with a new bike and helmet. He was so excited to get on it! First his 6-yr-old sister got on it and within 5 minutes begged Daddy to take the training wheels off her big bike. He did and there was no looking back. She taught herself how to ride a bike within 5 minutes on the BicycooBMX Balance Bike. Little Man hasn't had such success, but he still loves his bike. Look at this really short video:
The Joovy BicycooBMX is a durable, well designed balance bike for kids 3 years and above. The frame is made of aluminum so it is strong and lightweight just like high-end bikes. The lightweight frame makes controlling the bike much easier for kids, unlike the heavy wooden and steel versions. The tires are pneumatic (air) and refillable. Many balance bikes on the market use EVA plastic tires which are cheaper and wear out much quicker than these rubber tires used on the Joovy BicycooBMX. The suspension qualities of pneumatic tires give kids a much smoother ride. There is also a hand brake for the rear tire.
I absolutely love the colors available for the Joovy BicycooBMX, they are all so vibrant and bright. Little Man hasn't started using the hand brake yet. The only thing that seems to be missing, and maybe there's a reason for it, is I think there should be pegs for the feet to go on when they are cruising. I do like that the seat is adjustable but I wish it could go just a little higher, because Little Man seems to be a little tall for his age. I love that it's light enough for him to pick it up and put it away. I would recommend the Jooy BicycooBMX bike for beginners, especially when you have more young ones on the way or someone to pass it on to. The price point for this bike is $139.99 (and that's why I mentioned wanting to be able to pass it down.) You can purchase it on the Joovy website.