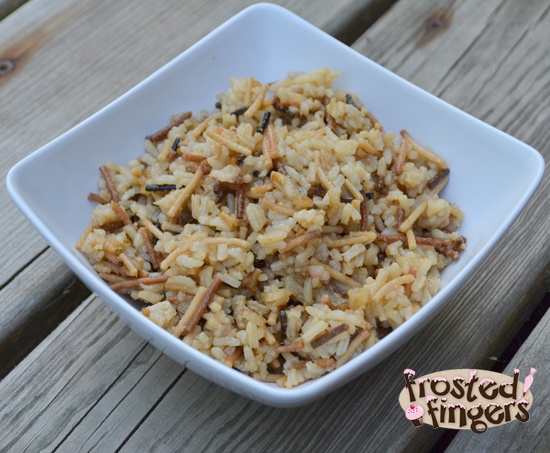 I was making some cherry pork chops and needed a side to go with them. I really wanted some Rice-a-Roni but seeing that I'm trying to avoid packaged foods, I haven't bought any in a LONG time. I started scouring the web for a way to make some at home. I found a few different recipes and threw them together along with my own idea. I fell in love with it made this way and will never buy the box again. I could actually package everything up that I needed and keep a few "packages" on hand so it's ready to go. I may do that after the kids go back to school and I have some free time to prep it.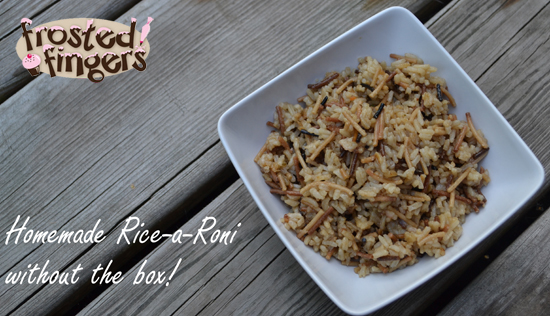 Homemade Rice a Roni
Ingredients
1

cup

rice

uncooked

1/2

cup

angel hair pasta

broken into small pieces

2

tablespoons

butter or margarine

1/2

t.

salt

1/2

t.

black pepper

1/4

t.

Italian seasoning

1/4

t.

paprika

1

package of Knorr Chicken Homestyle stock or 3 cubes chicken bouillon

2 2/3

cups

hot water
Instructions
In medium skillet (with lid), melt the butter over medium heat.

In small bowl combine salt, pepper, seasoning and paprika and put aside.

Add rice and pasta and cook, stirring, until lightly browned.

Dissolve chicken stock or bouillon cubes in hot water and add to skillet along with your seasonings.

Bring to a simmer and cover. Simmer on low heat, covered, approximately 20 minutes, or until water is absorbed and rice is tender.